This beautiful, albeit eerie, old pan is said to rival the stark beauty of the Sossusvlei located nearby, and situated in the Namib-Naukluft National Park in Namibia. The name Dead Vlei is derived from the Afrikaans term of vlei, meaning marsh and combined to mean Dead Marsh. You will notice this clearly when you see the Dead Vlei, with a number of dead trees that dot the landscape.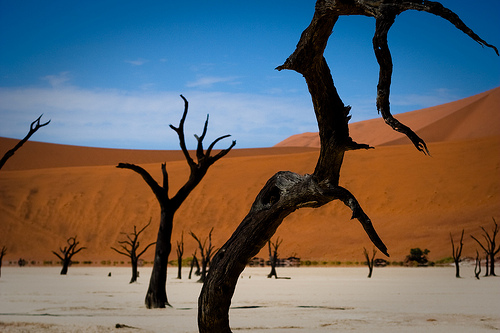 The Dead Vlei pan developed as a result of a drought in the region, which came about hundreds of years ago. The area supports only the hardiest of wildlife and plants, that mostly survive on the very rare rainfall and morning mist in the region. The sand dunes surrounding Dead Vlei are reported to be some of the highest in the world. Aptly named Big Daddy and Crazy Dune, these dunes reach heights of up to 400m.
4×4 enthusiasts will be delighted with the available, and clearly marked 4×4 track in the area. And you cannot pass up on watching a magnificent sunset which provides spectacular views of the sand dunes as they change color with the setting sun. One of the best vantage points for watching a sunset is at the Sesriem Canyon. The canyon is pretty easily accessible for climbing down and taking a scenic walk along the dry riverbed.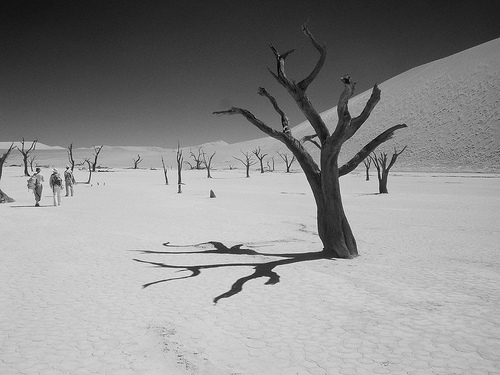 Located in the oldest desert in the world, tourists can stay in any of the luxury resorts within the area. Alternatively the Sesriem camping ground has ample facilities and amenities for the would be camper. Should you wish to remain in one of the more commercial areas of Swakopmund or Namibia's capital Windhoek, there are numerous tour operators who will oblige in providing you with their services to visit this area. Alternatively the self drive option is a wonderful way to experience the region. It is recommended that you have a reliable all wheel drive to access some of the regions and attractions. The area furthermore exhibits some difficult terrain in the form of mountain passes. Although these have exceptional views, it requires a more experienced and able driver to handle the navigation and traversing.
Hiking, driving and enjoying both the sunrise and sunsets in the Namib desert and areas such as that of Dead Vlei are the primary activities here. You have to take care when hiking, it is after all a desert so you will want to ensure that you drink lots of water and stay hydrated. You should furthermore take the time to climb to the top of at least one dune when visiting this area. This experience and the views will certainly provide a memorable moment in experiencing these age old sites and attractions of Namibia.