Being one of the Extremes on Earth, Mount Thor holds the prime as the greatest vertical drop in the world. The peak of Mount Thor towers up 1250 meters (4101 feet), delivering the drop that is more than one and a half times the height of Burj Dubai – currently the highest man made structure on Earth. With such impressive and unmatched measurements, the Thor Peak attracts fans of climbing and base jumping from all over the world, but one doesn't have to be into extreme sports to enjoy the mountain. Aside from claiming the prime as the world's greatest purely vertical drop, Mount Thor is also one of the world's most impressive mountain peaks to look at and photograph.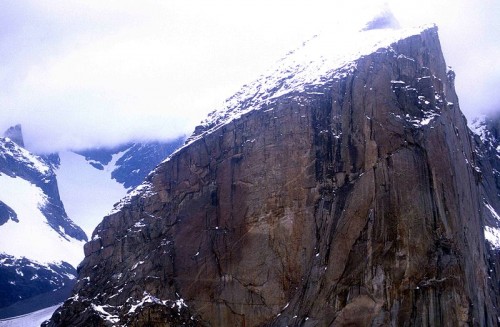 Mount Thor Location
Mount Thor is located in Auyuittuq National Park, on the Baffin Island in Nunavut, Canada. Nunavut is the newest and largest Canadian territory which takes up much of Northern Canada and the Canadian Arctic Archipelago. The mountain range Thor Peak is a part of is named after the island it spreads across – Baffin Mountains which are part of vast mountain range known as Arctic Cordillera. The nearest town from where to start an excursion would be Pangnirtung, which is located 46 km (29 miles) southwest of Mount Thor. You can see the location of Thor Peak on a navigable, interactive map below (provided by Google Maps TM):
What's In The Name
Thor is the name of Nordic God of Thunder. Baffin Island is close to Greenland so the Viking influence in names is apparent. Mount Asgard also bears the name from Norse mythology known as being the capital of Norse Gods, the home of Valhalla hall.
Auyuittuq, the name of the national park means "the land that never melts" in Inuktitut – the language of Inuit people, Nunavut's Aboriginals.
How to Get to Mount Thor
One of the specialties I like to offer on pages of Vacation Ideas are hidden tourist gems. These are the places none of your friends have been to and most will probably not have heard of, yet they are absolutely fabulous and some of the finest on Earth. Mount Thor is definitely one of them. It does get a fair deal of avid climbers and base jumpers visiting it, it's still one of the least touristy areas introduced on Vacation Ideas yet.
Auyuittuq National Park is far and wide one of the most remote and least accessible places on Earth. I wouldn't even be able to call it an "off the beaten track" tourist spot because that doesn't do its remoteness justice. No matter what type of exotic location your friends may have visited where you haven't been yet, once you have visited Mount Thor, you will wipe their location off the table top in an instant.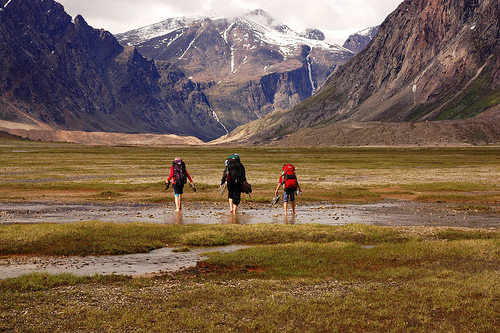 This remoteness comes at a price, though. There is no regular plane services to these parts of Canada and none of larger carriers service this area so your only option are small charter plane companies or group tours. This can easily push the price to thousands of dollars but if a large enough group can be put together, it could reduce the cost significantly.
The best starting point is Churchill, Manitoba (known for its Polar Bear spotting adventures). From there one could arrange a flight into Pangnirtung which brings you on Baffin Island from where further arrangements can be made.
Parks Visitor Information Center in Pangnirtung sells entry permits to Auyuittuq National Park. You can buy a daily pass for $15 or an annual pass for $100. Visit the Auyuittuq National Park of Canada official website for most up to date information on current fees and weather conditions: http://www.pc.gc.ca/eng/pn-np/nu/auyuittuq/index.aspx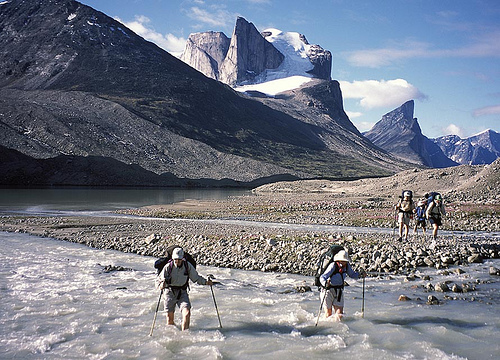 Pangnirtung is about 30km across the fjord from the entrance to the Auyuittuq National Park. Inuit people (Canadian aboriginals) living in Pangnirtung offer boat services to get you there, or if you get to the area in winter (not recommended) and the fjord is frozen, you can rent a snowmobile.
Getting to Mount Thor from the entrance to Auyuittuq National Park is a real adventure on its own. The only Ranger Station that exists in the park is by the entrance so you won't have many safe heavens once you dared inside. You will be taking the Akshayuk Pass which starts at the entrance and follows through the valley along the Weasel And Owl Rivers. You will need to ford the rivers at shallow crossings on several occasions.
Inukshuq – cairns of rocks built to resemble the shape of a person line the way so you don't get lost. The feeling of tightness with other adventurers and explorers is really strong in a remote location such as Auyuittuq National Park.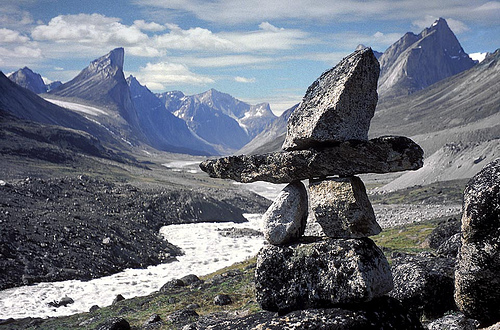 It is a 4 hour swift hike from the park entrance to the foot of Mount Thor but the nature is spectacular and pristine, giving you the feeling of exploring places no man has seen before. After you have passed Windy Lake, you will see Thor Peak towering in the distance.
Small hut at the base of Mount Thor is available to the adventures to sleep in or rest before challenging climb. It isn't big and will only take about 4 people max, but it's better than nothing in this untamed wilderness. Another hut is located at the foot of Mount Asgard and by the entrance, near Mount Overlord where the camping site is.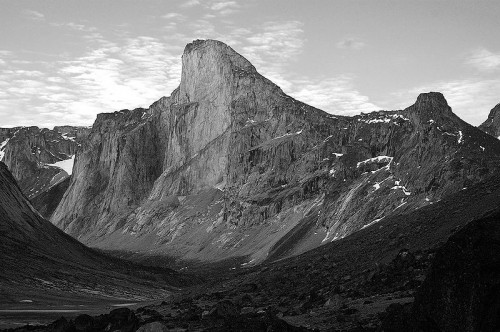 Mount Thor – The Best Time to Visit
If you intend to do climbing, the best time to visit Thor Peak would be between June and August. If you are not a climber but would like to experience unspoiled, raw wilderness at its finest, you may start to plan your expedition as early as April and as late as September, however it is strongly recommended that you time your visit to the Auyuittuq for summer. Winters in Nunavut are known for being long and tough. Temperature often drops below -40 Degrees Celsius and stays in that range for weeks. Coupled with strong winds, this truly is not the type of weather to explore the wilderness in. However, Auyuittuq National Park is open to visitors year round so it is possible to go there even in the midst of dead winter, but you truly don't want to do that.
Camping in Auyuittuq National Park
The only official campground is by Overlord Mountain at the head of Akshayuk Valley. Camping is otherwise allowed throughout Auyuittuq National Park but bear in mind that this is pure wilderness. You camp wherever you can find a good spot for the tent.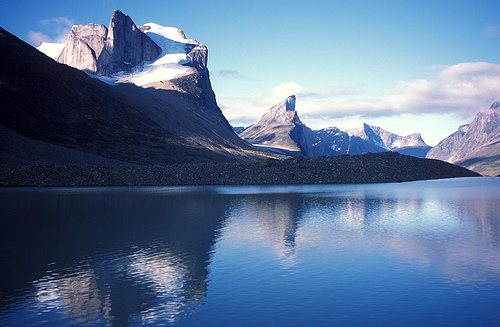 Mount Thor Climbing
The very first people to climb Mount Thor were the members of Arctic Institute of North America. Hans Weber, F. Schwarzenbach and J. Rothlisberger reached the peak of Mount Thor in 1953. Since then, Thor Peak has attracted many mountain climbers not only because of challenges it represents, but also because of its spectacular looks. Entire Auyuittuq National Park has countless peaks that would satisfy even the most demanding climber, including Mount Asgard which is best known for the BASE jump performed by stuntman Rick Sylvester in 1976 for the opening sequence of The Spy Who Loved Me, the tenth film in the James Bond series.
Thor Peak is technically a very challenging mountain to climb and should only be attempted by the most seasoned climbers. Extensive climbing experience is essential no matter which route you pick.
Mount Thor Rappelling
The west face of Mount Thor is an uninterrupted wall with 1250 meters long drop and an average grade of 105 degrees which means it slightly overhangs. This makes for challenging, but rewarding climbing. To descend such steep mountain wall, climbers must rappel (rappelling – sometimes called abseiling – is the technique used by climbers to descend the slope which requires the use of ropes because it's too dangerous to go without). The attempt at rappelling Mount Thor was made in 2004 by a Canadian park ranger Philip Robinson who climbed the mountain on his own and attempted to descend the steep wall but encountered a problem with his equipment and fell to his death.
The world record for the longest rappel in the world was set by a team of American climbers who rappelled Mount Thor on July 23, 2006. The world record team consisted of following world grade climbers: Tim Hudson, Deldon Barfuss, Donny Opperman, Gordon Rosser, Kenneth Waite, Ben Holley, Dirk Siron and Chuck Constable. The first successful attempt to scale western wall of Mount Thor was made in 1985. The team took 33 days to complete their mission. Previous 30 attempts all failed.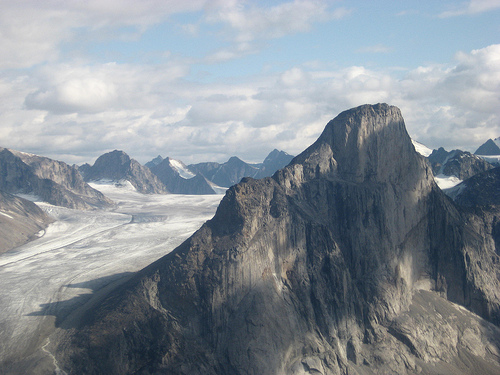 Mount Thor BASE Jump
Thanks to its uninterrupted wall that continuously overhangs, Mount Thor has been attracting the stuntmen and daredevils wishing to experience the long lasting free fall. Many BASE jumping attempts have been performed at Mount Thor, including formerly the highest BASE jump in the world, even though that has since been surpassed by the BASE jump off Great Trango Tower in Pakistan.
Mount Thor Video
Video below is an episode from an "Into the Arctic" video journal by artist Cory Trepanier. It shows lightly what it takes to get to Thor Peak and has some nice images of the mountain:
Mt. Thor in Canada is the world's largest cliff face. It is set against the backdrop of the magnificent Penny Ice Cap – the only ice formation on Earth that still remains from the last Ice Age. Surrounded by fjords of unspeakable beauty within the Auyuittuq National Park, Mount Thor is one spine tingling piece of granite rock that's sure to bewilder both thrill seeker, as well as beauty admirers.