Paro Taktsang would loosely translate in English as Tiger's Nest in Paro. Paro Taktsang is a monastery hence it's sometimes referred to as Taktshang Goemba which would again loosely translate in English as Tiger's Nest Monastery (Goemba means Monastery in Bhutanese). Whatever you call it, it's always the same thing. It is the very landmark of Bhutan, a small country located on the slopes of The Himalayas in South Asia. Many photo collections of the most fascinating sights on Earth would feature Paro Taktsang for its breath-taking visual appeal. Paro Taktsang would also be the first thing that comes to mind of any worldly man when talking about world's most famous monasteries. But aside from being one of world's most fascinating places, Paro Taktsang is also one of world's least accessible tourist destinations due to tourism restrictions imposed by the government of Bhutan. Hence only a handful of people get to see The Tiger's Nest Monastery with their own eyes which makes it so much more "exclusive" like and special. This is also one of main reason Paro Taktsang is featured on Vacation Ideas where I specialize in introducing places none of your friends have been to.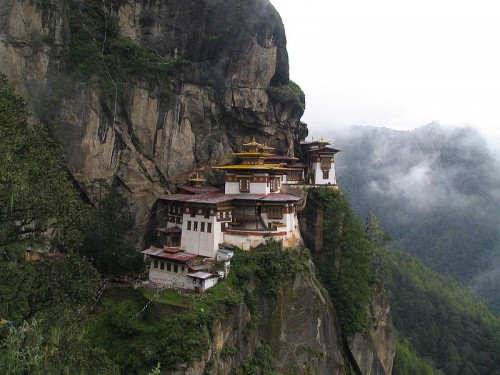 Visiting Bhutan
Entry to Bhutan is vastly limited. Independent tourism is not allowed so the only way in is by purchasing organized tours from authorised tour operators upon which you will be allowed to purchase Bhutanese visa and an air ticket through the only carrier that flies to Bhutan – Drukair. This approach greatly limits the numbers of tourists that are allowed to enter the country giving much more room to serious travellers who can enjoy unspoiled beauty of this Buddhist nation.
Bluntly put, Bhutan maintains sustainable tourism policy with focus on preservation of their own cultural and spiritual traditions that reach back to ancient times. High priced, non negotiable per day tariff prevents Bhutan from getting overrun by tourists and helps them avoid potentially disastrous consequences too much traffic could have on their heritage. For tourists who can afford to pay $200+ per day for an organized tour through Bhutan this creates an opportunity to visit one of the least accessible (aka most exclusive) countries in the world. For more information on Bhutan travel visit my dedicated Bhutan Tourism Information page.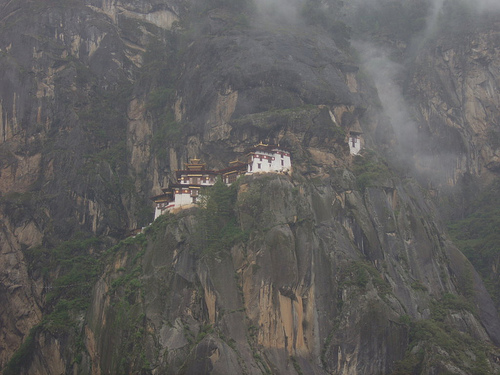 Paro Taktsang Location
Paro Taktsang is located in Paro district in south-west Bhutan. The town of Paro near which the Tiger's Nest Monastery is located (about 10 kilometres from town) has a population of 4,500 people and is a home to many sacred sites. There is an airport near Paro which serves as main international gateway for tourists flying to and out of Bhutan. Royal Bhutan Airlines Drukair is the only carrier that flies to Bhutan. Paro valley is located not far from Thimphu, the capital city of Bhutan. You can navigate through the location of Paro Taktsang on the interactive map below:
History of Paro Taktsang
Paro Taktsang Tiger's Nest Monastery is a hermitage built on a 1,200 meters high cliff around the Taktsang Senge Samdup cave where Guru Rinpoche (Padmasambhava, the second Buddha and the father of Bhutanese Buddhism) is believed to have landed on the back of tigress (hence the name of the "Tiger's Nest") in the 8th century (747 CE). During his journey through Bhutan and Tibet, Guru Rinpoche meditated in 13 taktsang (tiger lair caves), with Paro Taktsang being the most famous of them all. Since Guru Rinpoche declared Paro Taktsang a sacred place for meditation, the people of Bhutan eventually started to build a temple around it. The construction works on the temple were finished in 1692.
The temple remained at its original state for centuries until accidental fire on April 19, 1998 destroyed most of it. Restoration works started immediately to bring the monastery to its original look. Old photographs and diary drawings were used as reference for outer structure, but no reference material was available for some indoor paintings and sculptures making for irreversible loss of important artefacts.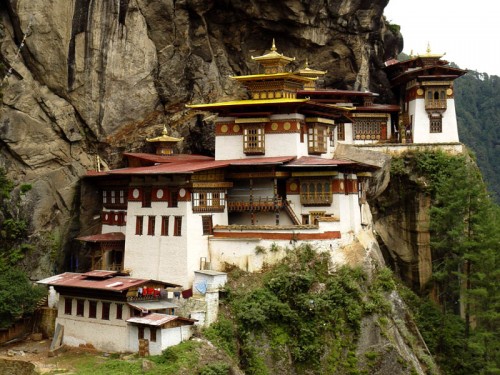 Monastery on a Cliff
Paro Taktsang Monastery is built on a sheer cliff that's 3,120 metres (10,200 feet) above sea level (enough for severe altitude sickness). The bottom of Paro Valley is 700 meters (2,300 feet) in straight drop from Paro Taktsang Monastery. It takes good 2 hours to get to the monastery from the parking lot in the valley below and while it's a nonstop uphill hike, it takes you around the hill so it's overall not that demanding. You can take a break from this uphill hike and recharge fluids at the cafe located half way through on ridge across from the monastery with nice views of it (hint: that's where you take your awesome photos of Tatksang parched on the cliff). Tea or coffee is very expensive there, though and it's not that great. The views are spectacular though. From the cafeteria you continue your walk around the hill almost giving you an impression that you are lost and going way off target until eventually you start short descend and get to the gate of Paro Taktsang. The entire monastery consists of seven temple, each of which is available for visit to tourists.
Paro Taktsang is often closed to public and if open, you need an entrance ticket. Seeing it from the outside from a cafeteria viewpoint is more than satisfactory and doesn't require a fee. Insides of the monastery itself is nothing compared to the view of it mounted on the cliff so even if you can't get inside or don't want to pay, you will get a chance to get the best of it by making it up to the cafe.
Tiger's Nest Monastery Video
The video below is a nice feature about the Tiger's Nest Fortress (for some reason the makers of the video refer to it as the Tiger's Nest Fortress). It's brief and to the point. Check out the spectacular views you can expect from a trek up the cliff towards Paro Taktsang.
Tiger's Nest Monastery in Bhutan is a sight to behold and one that will remain in your memory forever. The exclusivity of Bhutan makes it all so much special. You know you will be one of few who've seen Paro Taktsang with their own eyes. Overall safety and few bothering factors make Bhutan one of the most tourist friendly countries, even though it is not frugal traveller friendly (when on a budget, Bhutan becomes vastly inaccessible). If you can make an exception and cash out big for a visit to Bhutan, you will be rewarded with views of one of world's most spectacular monasteries – Paro Taktsang. Welcome to the Land of the Thunder Dragon.