Navagio Beach is one of the trademark beaches in Greece. It gets frequently featured on postcards and various promotional materials for its breath-taking visual appeal and thrilling isolation. Navagio Beach is often referred to as the Shipwreck Beach or just simply "The Shipwreck" because it's home to a wrecked ship called Panagiotis, which is believed to have been a smugglers ship. The presence of alleged smugglers ship gave Navagio Beach yet another nick name – Zakynthos Smugglers Cove. Not only is Navagio Beach considered to be the best beach on the Zakynthos Island and one of finest beaches in Greece, it's also regarded by many as one the best beaches, or THE best beach in the world.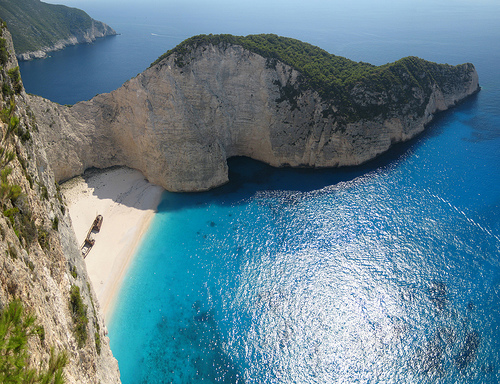 Navagio Beach Location
Navagio Beach is located on Zakynthos Island in Greece. Zakynthos is the third largest island of the Ionian Islands – islands located in Ionian Sea, off the west coast of Greece. Zante is another name for Zakynthos, mostly used by English or Italian speakers, but this name is slowly being given up in favor of native Zakynthos (which frankly has a nicer ring to it).
This small and isolated, yet strikingly beautiful sandy cove we know as The Shipwreck Cove is located on the north-west shore of Zakynthos Island, near the Anafotiria village, quite opposite of island's capital Zakynthos. You can see and navigate through the location of Navagio Beach on an interactive map below:
History of Shipwreck Cove
Navagio Beach was originally known as Agios Georgios. Then sometime in 1981, Greek Navy ships were tipped that a freighliner in the waters around Zakynthos Island is smuggling contraband which included cigarettes, wine and white meat (women) and pursuit was initiated. Stormy weather made for difficult navigation and bad visibility, resulting in alleged smugglers running aground right on Navagio Beach. The ship was abandoned and still rests buried in white sandy dunes of the beach that now bears the Shipwreck nickname. Navagio means Shipwreck in Greek.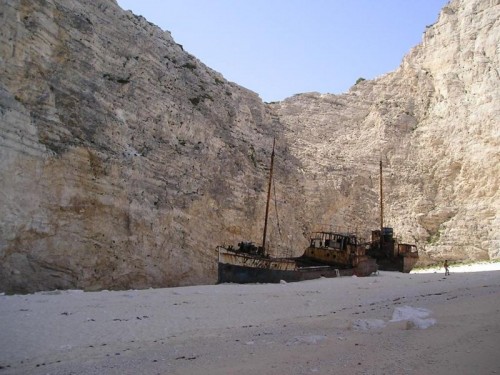 How to Get to Navagio Beach
As you can see from pictures, Navagio Beach is enclosed within unpenetrably steep cliffs which give it this remote, inaccessible feel. Because of that, it is impossible to walk to the beach, instead one needs to take the boat. Frequent boat service to Navagio Beach is provided from nearby Porto Vromi located to the south, or from the Harbor of Saint Nikolas in Volimes, located to the north of Navagio Beach. You can also take a boat from island's capital city of Zakinthos. Boats from Porto Vromi to this paradise beach leave about once every hour and take approximately 30 minutes.
To get spectacular photos of Navagio Beach from above, you can drive up on top of the cliff where new viewpoint offers amazing photo opportunities. Most postcard photos are taken from there. To get to the viewpoint, just follow the road signs which read "Navagio".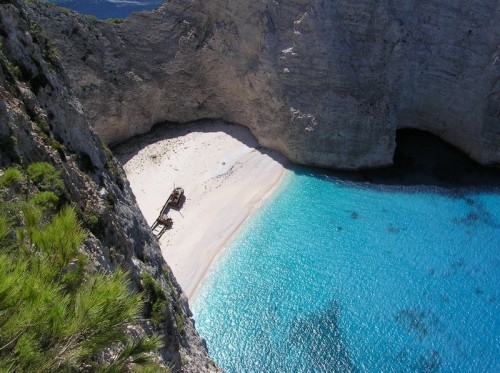 What to Take on Navagio Beach
Because of tricky access to Navagio Beach, it is advisable that you stock up before going there. Most of all, make sure you have enough water for whole day is availability at this remote location may be limited. Sunscreen is expectedly essential but keep in mind that water around Shipwreck Cove is often cooler than in other areas of Greece.
For your own safety, do not enter the shipwreck as its rusty metal construction contains dangerously sharp edges or sticking out nails at times. As it is an older ship (built in Scottish shipyards in 1937), the engine chamber has been allegedly isolated with asbestos which as we know, is a potentially poisonous and carcinogenic substance.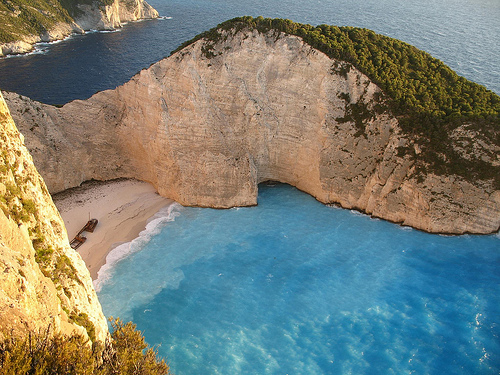 Best Time to Visit Navagio Beach
Navagio Beach is one of the most popular sights in Greece. Many travel guides agree that Navagio is the most photographed place in Greece, getting even more attention than the Acropolis of Athens or the Parthenon. Because of that, if you choose the peak of the day during high season, chances are good you will have to share this rather cozy cove with thousands of other visitors. In order to avoid overcrowding, go to Navagio Beach either early in the morning or put off your visit until later in the afternoon (at around 3pm).
As you can see form the satellite image on the navigable map above, there were four larger ships docked at the Navagio Beach at the time of this picture. Because of growing popularity, tourists boats run to Navagio Beach often and even boats that head to other location usually make a brief stop at Navagio Beach so the place is truly busy between 10 am and 2pm.
Navagio Beach Video
This video was filmed from the platform on the cliff, overloooking the Shipwreck Cove. It was filmed when there were no people on the beach and includes close ups of the shipwreck. Nice video, gives great perspective of how beautiful Navagio Beach is:
Shipwreck Bay is a spectacular sight which must be seen to believe. There is a reason why Navagio Beach is one of the most photographed places in the world. Crystal clear water surrounding the bay changes colors with each ray of sun light so the photographs you take will never look the same as everyone else's. Navagio Beach is a place to behold and a must visit for all avid travellers and photographers.