Before we get to the list of Top 6 Most Beautiful Atolls of the World, we first need to take a closer look at the definition of an atoll. What is an atoll and what is a difference between and atoll and an island. While an island is a piece of land surrounded by water, atoll is also a piece of land surrounded by water, but with a body of water within itself. In other words, atoll is a small piece of land that surrounds water on the inside and is surrounded by water on the outside. The best way to think of an atoll is that it's a ring of landmass sticking out of the sea or an ocean. There is however one more important aspect to the atolls which has not been mentioned yet. The landmass that creates an atoll is not a soil, it's a coral.
Atolls are former coral reefs that formed around a volcanic island. In certain tropical conditions, these coral reefs that are fringing the island start to expand, while the island itself starts to shrink until it gradually disappears under the surface of the ocean. What's left is a ring of corals encircling a lagoon and that is what we define as an Atoll. Needless to say – atolls are visually astounding formations found in tropical zones of large bodies of water, such as the Pacific or Indian Oceans. Aside from breathtaking looks, atolls count as some of world's best places to go snorkeling or scuba diving. The following is a list of Top 6 Most Beautiful Atolls of the World:
Tikehau Atoll, French Polynesia
Tikehau Atoll of the Palliser Islands Group of the French Polynesia, is located 340 kilometers northeast of Tahiti. Tikehau, which means "Peaceful Landing" in Tuamotuan is considered to be the most beautiful of all the atolls in the French Polynesia, and forms an almost unbroken circle that is 25.7 kilometers across. You will never run out of things to do at Tikehau Atoll. There is a resort that provides scuba diving, snorkeling, picnic and sunset cruises, fishing and canoeing. An abundance of sea life makes for fantastic diving – manta rays, barracudas, tunas, multicolored coral fish, and the ubiquitous reef sharks. The stay will be costly, as there is only one resort, and rooms range from $600 – $1100 per night, and you are looking at an average of $150/day per person for meals. But overall, if you get the chance to see the beauty Tikehau Atoll has to offer, it will be worth every penny.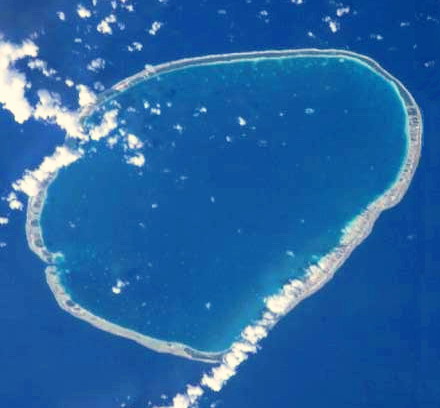 Tetiaroa Atoll, French Polynesia
Tetiaroa Atoll is located 59 kilometers north of Pepeete – the capital of the French Polynesia located on the island of Tahiti. New luxury resort is being built on Tetiaroa Atoll, and rumor has it it will cost around $1500 per night. Unless this resort is built, there will be no overnight accommodations on Tetiaroa Atoll but there is still plenty to do. From fishing, diving and snorkeling, to getting lost in photography and soak in the beautiful sights and sunshine, Tetiaroa Atoll has it all. Getting there is an adventure of its own. You can either sail to Tetiaroa Atoll with your own yacht, or hire one of the charter companies… either way though, a trip to Tetiaroa Atoll remains the privilege of the wealthy.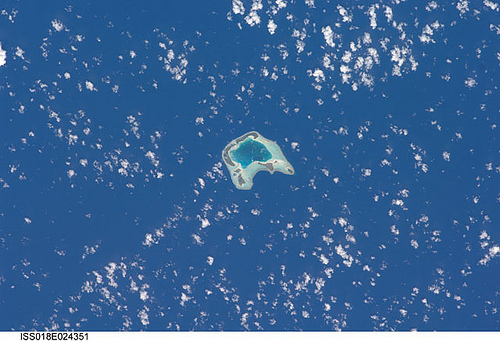 Orona Atoll, Kiribati
The Orona Atoll is also referred to as Hull Island. It is one of the Phoenix Islands in the Republic of Kiribati. It measures in at 8.8 kilometers by 4 kilometers, with a total surface area of 3.9 square kilometers and an elevation of 9 meters above sea level. Orona was previously occupied, but as of 2004 it is uninhabited. The island is known to be a nesting ground for turtles, and some other forms of wildlife including lizards, feral cats, rats, pigs, dogs, lizards and crabs. While shores of Orona Atoll are lined with Coconut Palms that, the rest of the atoll is mostly covered in scrub forest, herbs and grasses. In 2008, in order to preserve their fragile ecosystems, Orona Atoll along with the other islands of the Phoenix Islands archipelago were declared the protected areas, making them the largest marine protected area to date.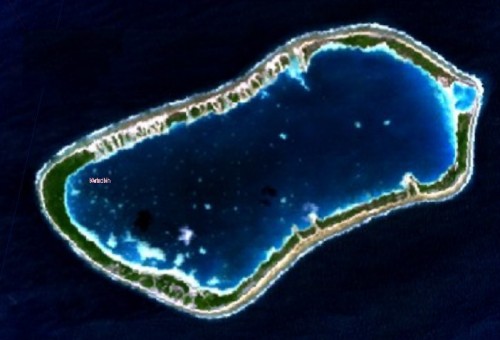 Bikini Atoll, Marshall Islands
Currently uninhabited, the Bikini Atoll is part of the Micronesian Islands, which is part of the Republic of Marshall Islands. Bikini Atoll consists of 23 islands that surround a lagoon in the Pacific Ocean spreading over an area of 591.4 kilometers squared. Between the years of 1946 and 1958, the Bikini Atoll took part in the Pacific Proving Grounds, where more than 20 nuclear tests took place, including the test for the first practical hydrogen bomb. In 1997 the International Atomic Energy Agency (IAEA) announced that it is now safe to walk the islands again, but since radiation levels remain high, it is highly recommended not to eat any food fished out of the ocean surrounding the atoll. Due to the same high levels of radioactivity as well as limited availability of services on the atoll, diving is not safe nor recommended. All of these restrictions along with lack of fishing resulted in abundance of sea life in the waters surrounding Bikini Atoll. Another thing that makes Bikini Atoll worth a visit is the shipwreck graveyard that includes the USS Saratoga (CV-3), the USS Apagon (SS-308) and even the Japanese battleship Nagato, but since scuba diving there is tricky, this attraction is moot for the time being.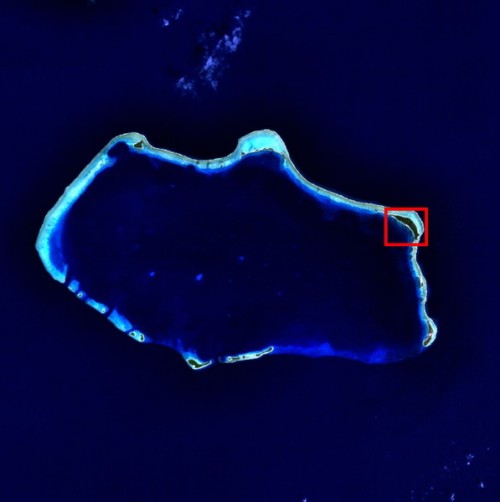 Aitutaki Atoll, Cook Islands
Aitutaki, also known as Araura, Ararau or Utataki, consists of 15 islands that are a part of the Cook Islands archipelago. Since Aitutaki Atoll is the Cook Islands second most visited tourist trap, visitors are catered to through a variety of resorts ranging from budget to high class. The land mainly consists of coral, beaches and volcanic fertile soil that allow delicious tropical fruits and vegetables to grow in excess. The basis of Aitutaki Atoll is roughly the shape of an equilateral triangle with sides 12 kilometers in length and has a maximum elevation of 123 meters. The total land surface is 18.05 kilometers squared, while the lagoon is around 50 to 74 kilometers squared. Aitutaki Atoll has a population of about 2000 people and is subdivided into 4 districts, containing 8 villages. There are however, no direct flights to get to the main island but there is an area for boats to anchor and a small airport for boat planes to land.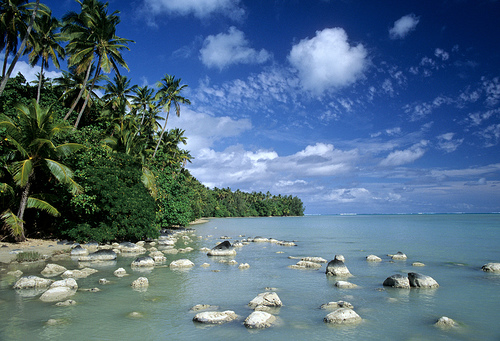 Aldabra Atoll, Seychelles
The Aldabra Atoll is located in the Indian Ocean and forms part of the Seychelles within the Aldabra Group. It is the second largest atoll in the world measuring at 13 kilometers long and 14.5 kilometers wide and up to 8 meters above sea level. The atoll itself consists of 4 islands that encircle a lagoon, with a total land surface area of 155.4 kilometers squared. The lagoon is 224 kilometers squared but about 2/3 of this falls during low tides. Aldabra Atoll is practically untouched by humans and uninhabited aside from rangers and island management, allowing fauna unique to this island to grow and prosper. This atoll is known mostly for its Aldabra Giant Tortoise, which nearly became extinct due to hunting in the 18th century but now has a population of over 150,000. You will also find green turtles, hawksbill turtles, hammerhead sharks, manta rays, barracuda, and birds, including the Aldabra Rail – the last surviving flightless bird of the Indian Ocean region calling Aldabra Atoll their home. The land mainly consists of limestone uplands, sand dunes and beaches and a mixture of trees, shrubs, herbs and grasses.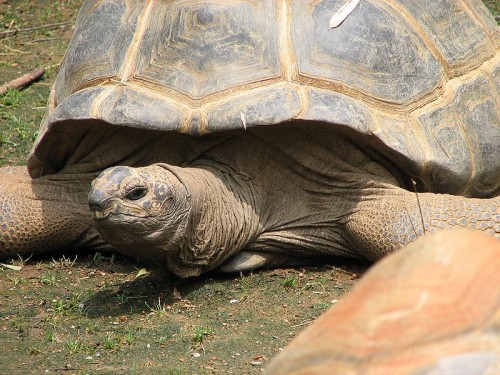 Ranging from uninhabited and roughing it to luxury and resorted, from day trips to extended stays, these atolls cover it all. Whether you are a diver, traveler or just going on vacation, these atolls are not only stunning in natural beauty, but also offer you that real chance to "get away from it all". I hope you enjoyed the list of Top 6 Most Beautiful Atolls of the World and if you know of an atoll that should be on the list, share your views in a comment to this post.