Jellyfish Lake is a marine lake on an island called Eil Malk. This island is part of one of the world's smallest and youngest countries – Palau. The interesting thing about Jellyfish Lake is that it is full of non-poisonous jellies so the visitors can go for a swim and get very close and personal with them. There are thousands, millions of them in the Jellyfish Lake and because they've lived there without any natural predators, their lethal stings were of no use. So they'd evolved and are now completely safe for humans to swim with.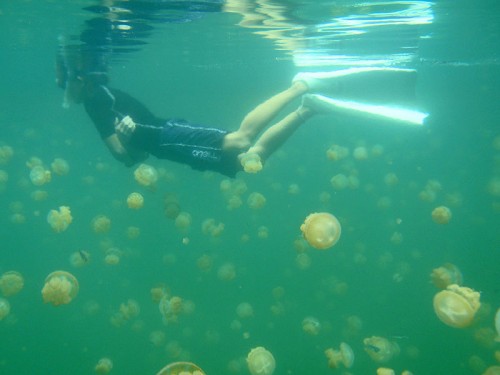 Jellyfish Lake Location
Republic of Palau is known as a country without borders. It is a group of islands located in the Pacific Ocean, some 800 km (500 miles) southeast of the Philippines. Palau is also the westernmost archipelago of the Caroline Islands, but unlike its neighbors, Palau didn't join the Federated States of Micronesia and set out on the path of independence.
The most populated areas of Palau are the islands of Koror, Babeldaob, Peleliu and Angaur. This is where the most of the nation's 20,000 people live, however Palau also consists of several coral atolls (Kayyangel, Ngeruangel), a remote group of six islands called the Southwest Islands and uninhabited limestone outcrops peeking out of the Philippines Sea known as the Rock Islands. It is on one of the Rock Islands, called Eil Malk or Mecherchar where Jellyfish Lake can be found.
Eil Malk is located 23 km southeast of Palau's most populated island of Koror. More than 10 lakes can be found on uninhabited, densely forested Eil Malk, but it is the Jellyfish Lake that is of world renown and attracts most attention.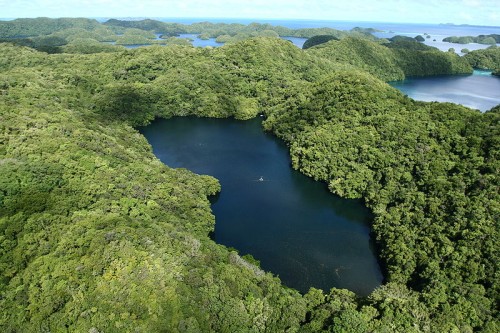 Tourists wishing to visit the Jellyfish Lake are required to purchase the Rock Islands / Jellyfish Lake pass which costs $35 US (US Dollars are the official currency used on Palau) and is valid for 10 days.
You can see the location of the Jellyfish Lake on the navigable, interactive map below (by Google Maps):
How to Get to Jellyfish Lake
The only reasonably way of getting to Palau is by plane. Continental Micronesia flies to Palau from Guam daily, but new routes have been added as recently as December 2010 to Palau from Tokyo (Japan), Brisbane (Australia) and Manila (Philippines).
Since Eil Malk is an uninhabited island, you would stay in other parts of Palau and take a daily trip to Jellyfish Lake. It takes about 40 minutes to reach Eil Malk by boat from Koror. As can be seen from the picture above (though being an aerial shot, it doesn't offer true perception), in order to reach the lake from the shore, one needs to take on a big, steep hill. But don't let that discourage you. It is a little bit of effort that will make it worth your while in the end.
Seen as a natural phenomenon and a scientific mystery, reaching the Jellyfish Lake and going for a safe swim with the jellies is a surreal experience that has no match anywhere in the world.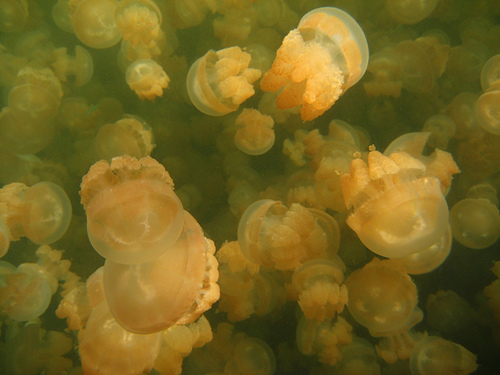 Jellyfish Lake Explained
There are about 70 saltwater lakes on the islands of Palau. These lakes used to be lagoons fully connected to the ocean, but are now cut off and seemingly isolated, though limestone tunnels in this Miocene reef allow for tidal water to flow in and out.
Such isolated environment allows for fast growing algae to strive and since no predators make it to the lake, this body of water is now completely packed with jellies.
The Jellies of The Jellyfish Lake
Absence of predators resulted in natural evolution of the jellies which look different from their close relatives living in a nearby ocean lagoon. There two species of scyphozoan jellyfish that can be found in the Jellyfish Lake:
Golden Jellyfish (Mastigias Papua)
Moon Jellyfish (Aurelia Aurita)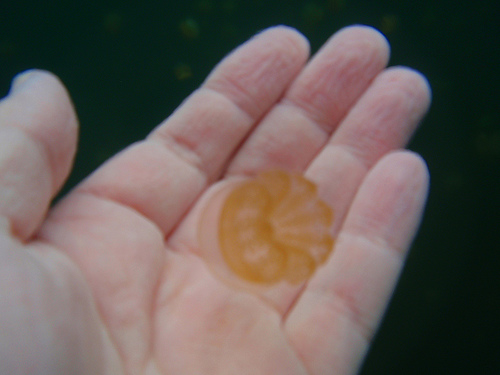 The jellies from the Jellyfish Lake are still equipped with nematocytes (stinging cells), but they are too small to pose risk to humans. Some swimmers can experience an occasional zap, especially when encountering a baby jelly, but these are not dangerous and can be seen as part of the experience. However, people with allergies to jellyfish should consider wearing a protective lycra suits prior to entering the lake.
Swimming with the Jellies
Swimming and snorkeling in the Jellyfish Lake are permitted and are an experience not to be missed. There are thousands upon thousands of jellies in the Jellyfish Lake, you just submerge yourself and enjoy being in the presence of these fascinating sea creatures.
It is worth noting, though that because there are so many jellies in the lake, each swimmer is guaranteed to come in contact with many of them throughout their course of swimming and people are not used to being touched by living organisms that feels this strange upon touch. The initial feelings may be rather freaky or, to a point, uncomfortable but it's nothing a little open mind and fascination with nature would not overcome.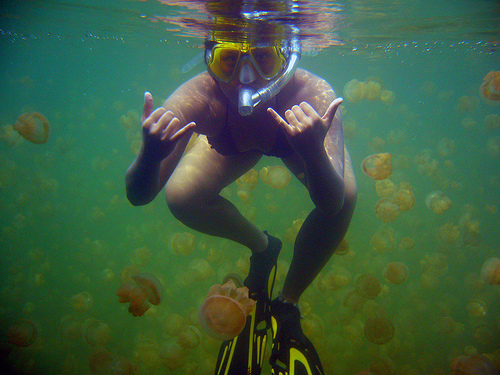 Scuba Diving in the Jellyfish Lake
Scuba diving is not permitted in the Jellyfish Lake and for very good reasons. First of all, it really is not necessary to scuba dive as all the jellies float within a few meters of the surface of the lake.
Secondly, there is a dangerous layer of hydrogen sulfide between 15 and 20 from the surface. This hydrogen sulfide can be absorbed through the skin and is toxic – can cause death. There are no traces of it found in the upper layer of the lake, but dip deeper down and you are putting your life in harm's way.
Thirdly, there is a very high concentration of jellyfish that hover horizontally in the upper layer of the lake, so if a scuba diver was to slide down below them, the bubbles released during breathe-outs could get trapped beneath their bells and harm the creatures. Given that a scuba diver would have dozens of jellyfish above them at any given time, each breathe-out would most certainly hit at least one unsuspecting jellyfish, causing harm and vastly disturbing this unique ecosystem.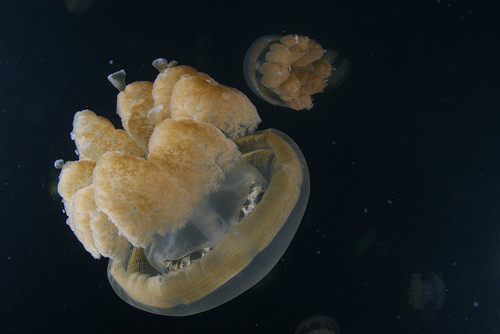 Jellyfish Lake Video
From the surface, the Jellyfish Lake looks like any other lake, but dip your camera below the surface and all you see is a slew of non-stinging jellyfish, as can be seen in the video below:
Jellyfish Lake is one of the most unique places a traveller can visit. It is one of 11 permanently stratified meromictic lakes (lakes containing layers of water that do not mix) in Palau, but the only one that's open to tourists.
Palau is not a budget traveller destination. Being so remote, the South Pacific archipelago of Palau is entirely dependent on income from tourism which gets reflected in the costs associated with trips to the area. On a bright side, Palau is a very safe place with virtually no crime though exercising common sense is always wise.
I hope you enjoyed this introduction to the Jellyfish Lake and if you're heading over to pay Palau for a visit (or if you did visit in the past), I hope you will share your experiences with the rest of us so we get the first person report on what it's really like.