In bad taste or not, Thanatourism – aka Dark Tourism to the destinations associated with death or suffering is here to stay. I personally believe that I am not in position to judge other people's travel choices as well as the motivations behind them, so let me put the prejudice behind and get right down to introducing some of the world's most popular Dark Tourism Destinations. As with all To 10 Lists, this Top 10 List of Dark Tourism Destinations may not match what you would put in your own, personal list of top 10s. This is because different people perceive different things as "the best there is". If you believe some other macabre destination should have made it to the list, please provide brief information about it in a comment.
Below is the list of 10 Dark Tourism Destinations that get a sizeable share of visitors solely because they are associated with death, disaster, poverty or suffering.
10 – Dharavi Slum, Mumbai, India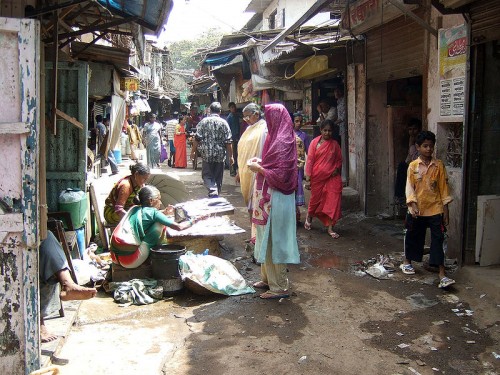 Immortalized by the Oscar winning Slumdog Millionaire movie, Mumbai's Dharavi Slum is not only the largest slum in India, but in entire Asia. Home to almost 1 Million people, Dharavi Slum greets visitors with stomach turning odor, presence of piling garbage and human waste and endless displays of poverty, disease and depressing living conditions.
It is difficult to predict whether sudden influx of money from Thanatourism delivers any realistic improvements to this Dark Tourism Destination, but reports say that much of the revenue goes directly to the community which is now more than excited to showcase their God-awful standards of living. Good business sense dictates that in order for them to keep this easy revenue coming, they will have to ensure that people within continue looking poor and sick and both odor and garbage remain as stringent and in visitors' face as ever. But as it goes in impoverished communities, loan sharks will make sure that regardless of how much Dark Tourism revenue the slums generate, the poor will get poorer while the rich get richer.
9 – Cu Chi Tunnels, Saigon, Vietnam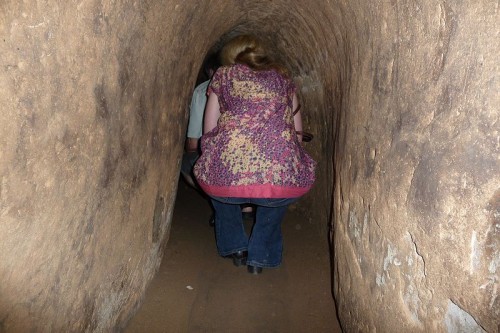 A 75-mile-long underground tunnel system located below Cu Chi district of Vietnam's Ho Chi Minh City (Saigon) was used by Viet Cong freedom fighters to run military campaigns against occupying US forces. In 1968, Cu Chi Tunnels served as the base from where Viet Cong launched Tet Offensive which ultimately aided in humiliating withdrawal of US forces from Vietnam.
Back then, Cu Chi Tunnels were full of deadly spiders and wandering scorpions, offering little space with unbearable humidity and had many passages wired with booty traps. Today, the site is a popular Dark Tourism Destination and a prime example of how former warfare can be turned into a lucrative tourist attraction.
Popular, easy to access corridors have been widened to accommodate inquisitive tourists and a firing range has been set up to offer more authentic experience for those with trigger happy fingers. For $1, you get to fire a shot from an AK-47 rifle that was used during the Vietnam War and munch on a simple food guerrilla fighters used to live on.
8 – Tuol Sleng Genocide Museum, Phnom Penh, Cambodia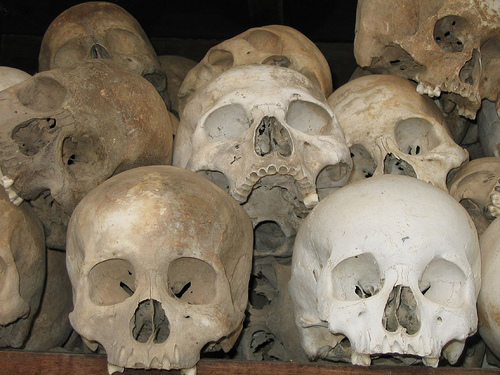 Visitors to Cambodian capital of Phnom Penh will not be able to avoid aggressive tuk tuk drivers who will accost them on every steps with offers to take them to the Tuol Sleng Genocide Museum, or as it is commonly referred to by locals – The Killing Fields. This former high school was turned into a Security Prison 21 (S-21) in 1975 by the ruthless Khmer Rouge regime to torture and execute unwanted individuals.
The most shocking part of the visit to Tuol Sleng Genocide Museum is that despite unspeakable atrocities done to the prisoners, locals, many of whom lived during the Khmer Rouge regime seem to be more than excited to have it in their capital as it attracts hundreds of tourists every day. Instead of trying to forget what the Strychnine Hill (the meaning of Tuol Sleng in English) represents, Cambodians are excited to have this Dark Tourism Attraction in their capital and won't hesitate to tell visitors about the piles of skulls and bones that can be found there, for as long as they get the tourists to pay them for transport to the site.
7 – Devil's Island, French Guiana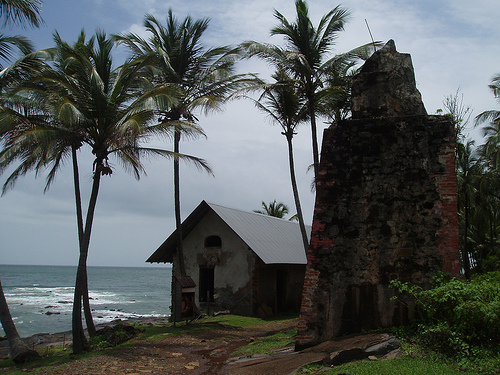 Set up by French Emperor Napoleon III in 1852, the smallest and northernmost island of the Iles du Salut archipelago north of French Guiana housed the most notorious penal colony in the world until 1952. Vast majority of convicts sent to the disease infested Devil's Island never made it out of the ghastly, inhospitable environment it provided.
Nowadays, Devil's Island is one of the prime tourist attractions in French Guiana and one of the most popular Dark Tourism Destinations among the tourists seeking macabre tours. A visitor can enjoy access to the cells in which inmates died, the headquarters from where the prison was run or the cemetery with graves of people whose lives were claimed by the island.
6 – London Dungeon, UK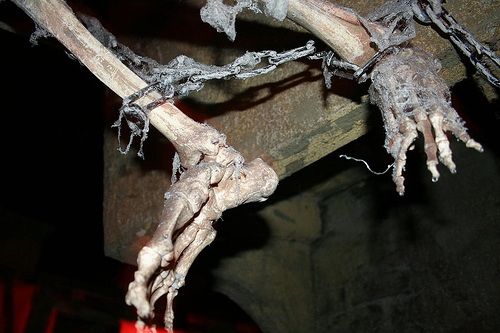 London Dungeon would be precisely what Dark Tourism is all about. It is an exhibit of macabre events from medieval history that offers believable glimpses into torture, plaque, serial killing and more.
Although London Dungeon started as a museum of macabre history, the visit now includes interactive, actor led experiences, rides and special effects.
5 – The Zone of Alienation in Chernobyl, Ukraine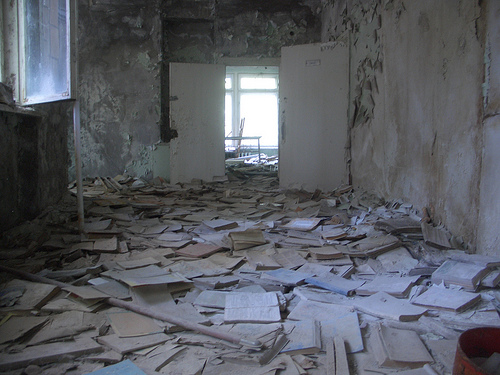 This 30 km wide area around the site of the Chernobyl nuclear reactor disaster that occurred on April 26, 1986 is as chilling today as it was after the explosion. Abandoned buildings, shattered glass and vegetation overgrown amusement park remind a visitor that even after more than two decades, normal life cannot resume in the area.
As it goes with other Dark Tourism Destinations, Chernobyl disaster site was also turned into a tourist attraction generating revenue since 2002. Daily tours from Kiev start from $150 inclusive of transportation and food. Levels of radioactivity on roads open for tours are nowadays low and are continuously monitored so the visit is considered safer than a 2 hour flight in a plane, which exposes human bodies to more radioactivity than the Zone of Alienation.
4 – Auschwitz Concentration Camp, Poland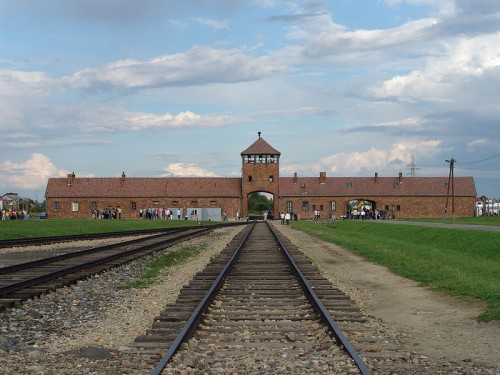 The largest of all Nazi concentration camps, Auschwitz (or Oswiecim as it is called in Polish) is believed to have served as an extermination camp for more than one million people, most of which were Jews. Majority were killed in camp's gas chambers, while others died of disease or starvation. Set up by the architect of the holocaust Heinrich Himmler, Auschwitz was also the site where evil "Angel of Death" doctor Josef Mengele performed his experiments on live people.
Due to its notoriety, Auschwitz is one of the most visited Dark Tourism Destinations in the world today. The popularity of the site is so huge, the access is only granted to organized tour groups during peak hours of the peak season. Tours are of course a source of massive revenue.
3 – The River Kwai Bridge, Thailand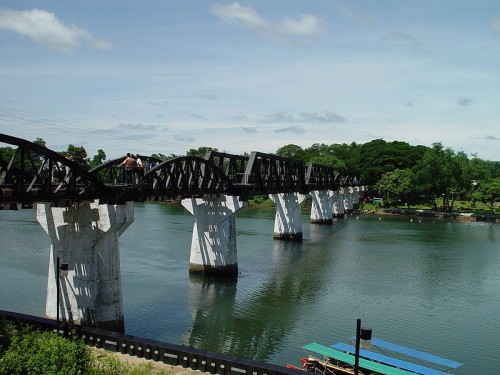 While most of WWII fights took place in Europe, other parts of the world were also heavily involved. Much of South East Asia was under Japanese occupation between 1942 and 1943 and plans were to also invade India. To accomplish the goal, Japanese troops stationed in Burma (today's Myanmar) needed more support but since no convenient infrastructure was available, the decision has been made to build a railway that would connect Kanchanabury in Siam (today's Thailand) with West Burma's Moulmein.
The quarter of a million people, both Asians as well as the prisoners of war from the Allied (Commonwealth, American and Dutch) nations were forced into labor to get the construction underway. Camps were built in both Burma and Siam starting the railway from opposite ends to meet in the center. Due to food shortages, workers suffered from malnutrition. Medical supplies and sanitary facilities were either nonexistent or insufficient giving malnourished and overworked people little chance to battle off malaria, cholera or the tropical ulcer which were common in these areas.
Construction of the 416 km long Siam – Burma railway (the Death Railway) took 16 months, during which an estimated hundred thousand workers, of which approximately 13,000 were the prisoners of war died. Their bodies were buried alongside the tracks wherever they'd dropped.
Travellers wishing to get the glimpse of what conditions the Death Railway workers lived and died in can visit one of the three museums that contain graphic photographs and tools used by the prisoners to build the railway. A cemetery with the remains of about 7,000 workers is only a short drive away. It is also possible to hop on a train and take a ride on the Death Railway the construction of which claimed so many lives. To have memorable pictures, most Dark Tourism visitors do not pass on the opportunity to walk along the River Kwai Bridge with the infamous river after which it is named in the background.
2 – Ground Zero, New York City, USA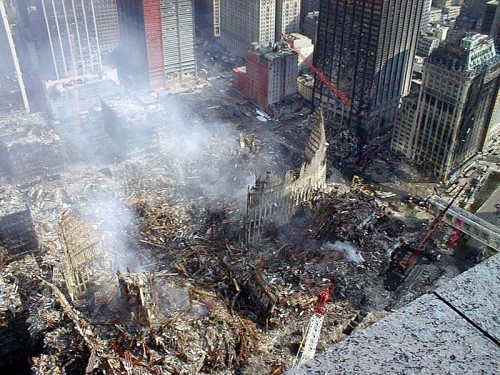 The 9/11 attacks in which two planes flew into the World Trade Centre buildings in New York City, claiming lives of nearly 3,000 people, count as the most notorious modern history attacks in the world.
Needless to say, macabre site of such worldwide significance draws attention of many Dark Tourism enthusiasts and counts as one of the most important Dark Tourism Destinations in the world. This top 10 list would not be complete without the WTC site on it.
1 – Pont de l'Alma Road Tunnel, Paris, France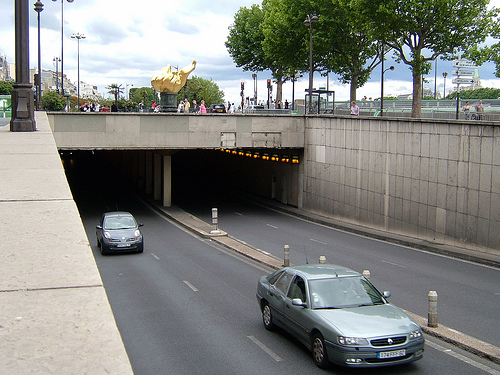 Pont de l'Alma is a road tunnel near the bridge of the same name in Paris, France where Princess Diana of Wales died on August 31, 1997. Princess' boyfriend Dodi Al-Fayed and their driver Henri Paul who was an acting head of security at the Ritz Hotel (owned by Dodi Al-Fayed's father Mohamed) also died in the accident.
The Flame of Liberty, which is an exact replica of the Statue of Liberty's flame sits above the entrance to the tunnel and is considered the unofficial memorial to Princess Diana.
Dark Tourism Conclusion
Travel to sites of tragedy and atrocity could serve as the means of learning from the past to avoid similar disasters from occurring in the future. The fact that these Dark Tourism Destinations exist is a testament to shortcomings we as human beings are exposed to.
Even through the previous sounds as a nice closing sentence, it is important to realize that Dark Tourism is nothing new. The fascination with death and suffering has been with us since humans came to be. Fights of Roman Gladiators drew such crowds of spectators, whole Coliseums were built to accommodate them. Burnings of witches during Spanish inquisition times saw whole villages gather round to watch the people burn in agony. Thomas Cook, founder of successful travel agency bearing his name made a killing organizing tours for inquisitive British travellers to the American Civil War battlefields.
Like it or not, Dark Tourism has been here since the dawn of men and will stay for as long as we exist.