Hang Nga Guesthouse and Gallery may be the official name of this extraordinary piece of urban architecture, but you won't find any locals calling it any name other than Crazy House. And Crazy House it is. If there are any written or unwritten house building rules, then they have been all broken when Hang Nga was being designed. The architecture is so unconventional, people also refer to it as "Tree House", "Spider Web Chalet" or plethora of other names and they are all correct as that is precisely what Crazy House in Da Lat, Vietnam looks like. At first sight, Hang Nga Guesthouse resembles a giant Banyan Tree that came alive and unearthed its maze of roots swirling randomly in all directions. Massive spider webs hang off the tree branches and once you enter the tree house, you find yourself walking through hallways and staircases that resemble fairytale caves. The intent to integrate nature into architecture is apparent. Once you have made your way up the winding stairs, you will be passing through themed rooms, such as the Tiger Room, Giraffe Room, Ant Room, etc. Hang Nga Guesthouse is a fusion of architecture found in Disney Land Castles and Antoni Gaudi's individualistically designed buildings in Barcelona. Except that Hang Viet Nga, an architect who designed Crazy House has never been to Disney Land nor heard of Antoni Gaudi.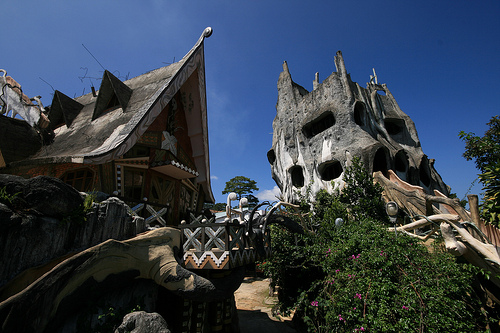 Hang Nga Guesthouse Location
Hang Nga Guesthouse and Gallery is located on a Huynh Thuc Khang street in Da Lat, the capital of Lam Dong Province in Vietnam. The exact address is: 3 Huynh Thuc Khang Street, Dalat, 20000, Vietnam. Hang Nga Guesthouse is still works in progress and its creator – Ms. Hang Nga still lives on site. The phone number for bookings is (063) 822 070. You can see the location of Crazy House on an interactive, navigable map below (courtesy of Google Maps TM):
City of Da Lat, Vietnam
Da Lat is a tourist hot spot for locals Vietnamese who come here for family getaways, company outings and honeymoons. Nicknamed "The City of Love", "City of Eternal Spring", or "Le Petit Paris", Da Lat was built by French colonist in the 1920's who used its elevated area as a retreat from scorching heat of nearby Saigon. Picturesque French colonial villas are scattered throughout town but French influence is also apparent from ever present croissant bakeries, cafes, restaurants or hotels. There is even a replica of the Eiffel Tower in town.
Unlike most of Vietnam, higher elevation of Da Lat makes for more bearable temperatures and less humidity. Through this fact, Da Lat is known as being the most pleasant town in Vietnam. But it is not only pleasant by the climate. Its postcard perfect setting with surrounding hills and a small lake in the center offers sceneries unseen in the rest of the country. Outdoor activities such as hiking, mountain biking or canoeing in this picturesque landscape are said to be the best in Vietnam.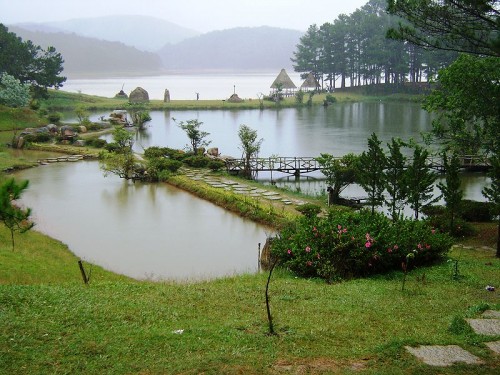 Getting to Da Lat
If your wallet permits, you can fly to Da Lat from Ho Chi Minh City or Hanoi via Vietnam Airlines. While these flights are safe, they are not particularly reliable. Cancellations are frequent and happen without notice. It is wise to check with the airport prior to going there. Flights only take about 50 minutes from Ho Chi Minh City and 1 hr 40 minutes from Hanoi.
Daily bus service departs for Hanoi via Da Lat from Sinh Cafe in the backpacker's area in Saigon (HCMC) and the same one goes back down south from Hanoi via Nha Trang (popular beach town in Vietnam) from where it takes about 5 hours to get to Da Lat. Bus ride from Saigon takes about 7 to 9 hours depending on the time of year and road conditions.
Hang Nga Story
Hang Nga Guesthouse and Art Gallery is named after the woman who came with an idea of an extraordinary house design and brought it to life. Good thing was that Ms. Hang Viet Nga is a daughter of the late Truong Chinh – high ranking official of the Communist Party of Vietnam who became country's second president. Building avant-guard, lavish houses seemed very anti-socialist to many party officials who put a stop to Ms. Nga's intentions to build a house like that in the country, but being direct family with the president, she was eventually allowed to go ahead with it and come 1990, the Crazy House was born.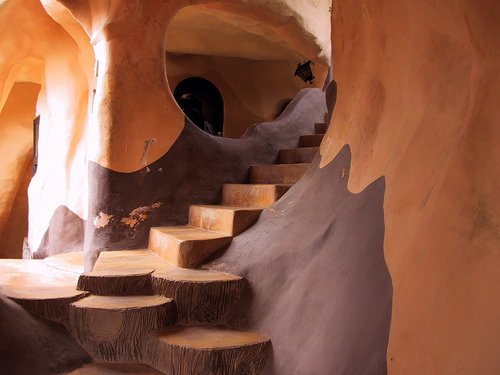 Thanks to her aristocratic background, Hang Viet Nga got her early education in prestigious schools in China and a PhD in Architecture from the University of Moscow in then communist Soviet Union. She was seen as a bit too eccentric upon return to Da Lat and when construction on the Crazy House began, this notion has just become stronger. Determined to bring her dream house to reality, Hang Viet Nga worked on designs, combining the elements of nature Da Lat is surrounded with, with suitability for use by people and the result is an architectonic gem that one would never expect to see in a country like Vietnam.
There are hardly any right angles anywhere on Hang Nga Guesthouse. You won't find perfect circles there either – only curves and more curves, always intertwined with elements of nature, such as animals (a spider, giraffe, frog, ant or bear), plants (such as mushrooms) and even a pond. To this day Ms. Hang Viet Nga insists that people used to live close to nature in the past and as a result, they were friendlier and in more harmony with one another.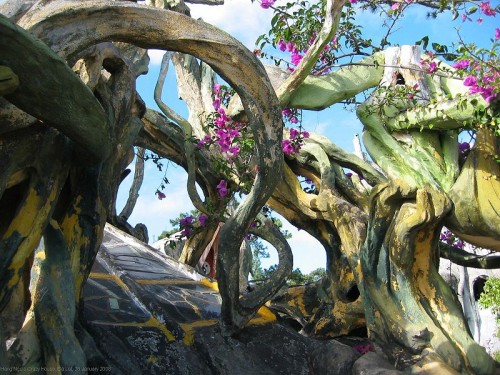 Every part of the Hang Nga Guesthouse is hand built by a team of local enthusiasts employed by Ms. Nga. Conventional furniture would never fit in a room with no straight lines. What started as an art gallery, was later turned into a guesthouse to help generate the revenue which was then used to pay for custom work expansions of the house required. Admission fees charged to those who just wish to look, but not stay is another stream of income. It only costs 10,000 Vietnamese Dong, which is less than $1 US (according to the latest conversion rates $1 = 18,000 Dong).
Hang Nga Guesthouse Rooms
Each room in the Crazy House is unique and themed. Each comes with its own bathroom and fireplace. Unique, handcrafted furniture complements the theme of each room. The Tiger Room bears Chinese theme and represents the strengths. The Kangaroo Room is all about the Aussies, but you don't have to be one to stay there. The Eagle Room is a symbol of strong and big Americans where as the Ant Room represents hard working people of Vietnam. The Rooftop Room comes with no ceiling so you get to sleep with the stars. And if you like to get spoiled during your stay at the Hang Nga Guesthouse, the Bee Room with a waterfall and a massage bathtub could be for you.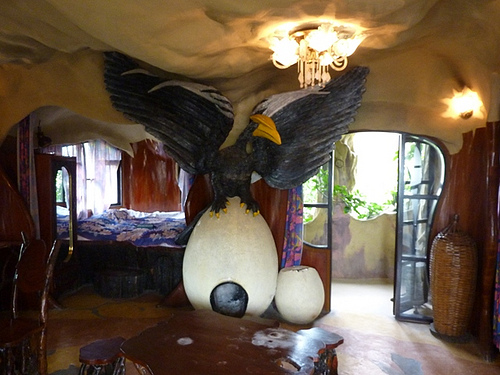 Hang Nga Guesthouse Video
This three minute YouTube video gives very neat perspective on what the Crazy House looks like from the inside, including the peaks into various themed rooms:
Even though Dalat residents named the Hang Nga Guesthouse "The Crazy House" because it was out of what they would consider "normal", they have grown to accept it as an important part of their town and a popular tourist attraction. It is without doubt a fun place to visit and an interesting experience to stay a night in. The rates range from USD $30.00 to $85.00 per day which is definitely steep for Vietnam, but you are getting a one of a kind experience that's unrivaled not only in Vietnam, but in the world. Da Lat can be explored on foot, but if you'd like to also visit the hill tribes and enjoy their native performances, you may want to consider hiring a member of the Easy Riders team. They are the motorcycle riders who know all the places you want to see and will drive you everywhere for a fun filled day without any wasted time. And no, you don't have to be particularly crazy to enjoy the Crazy House. It is a place worth visiting when traveling to Vietnam or backpacking through South East Asia. Enjoy!