Ottawa, the capital of Canada is easily one of the most picturesque capitals of the world. It pays to mention that it's also one of the most tourism friendly capitals. What do I mean by "the most tourism friendly"? It's simple – unlike most capital cities, Ottawa has all of its interesting sites so close to one another, that you can visit them all on foot completely avoiding cab or public transportation fees. How's that for great tourist destination? That being said – do not think of Ottawa as some form of miniature city. Ottawa has it all:
beautiful art galleries, great museums and thriving performance arts scene for all you culture junkies
rich history with countless historical spots, including absolutely majestic gothic Parliamentary buildings for all you history junkies
great restaurants with world class chefs for all you culinary junkies
busy athletic and sport scene that includes Ottawa Senators NHL team for all you sport junkies
Ottawa – Geographical Location
Ottawa is located on the south bank of the Ottawa River in Canadian province of Ontario. The Ottawa River also outlines the border between Ontario and the French-Canadian province of Quebec. The North bank of the Ottawa River is the site of the French speaking town of Hull. This position between predominantly English province of Ontario and predominantly French province of Quebec makes Ottawa an exciting blend of English and French cultures.
Culture in Ottawa
Ottawa has grown to be a culturally diverse city. The Canadian National Arts Centre and the National Gallery of Canada are housed in Ottawa. If arts don't fit your taste, you can visit the Canada Science and Technology Museum or the Canadian Museum of Nature. Ottawa's twin city of Hull which is just across the Ottawa River from Parliament Hill is home to the Canadian Museum of Civilization. A number of theaters are available throughout the city for those looking to see a play or an opera.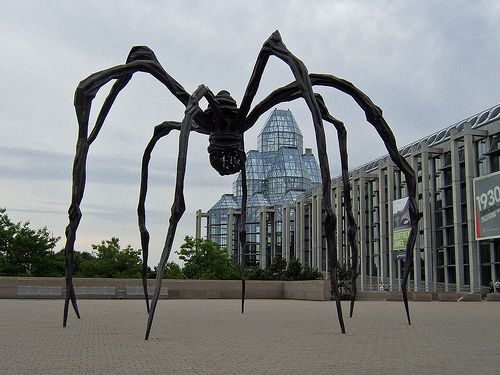 Ottawa Downtown
Ottawa's major attractions, such as Parliament Hill or the National Gallery of Canada are expectedly located within the downtown core of the city, however the downtown also has large residential area with attractive shopping centres and restaurants. The Rideau Shopping Centre or the Sparks Street Mall will surely fix your shopping itch, while Suisha Gardens or Hy's Steak House will take care of the culinary one.
Peace Tower
At 92 meters (302 feet) high the Peace Tower is Ottawa's main landmark. The Tower ascends the grandiose Parliament Buildings which pose proudly at the junction of three rivers – the Ottawa River, the Rideau River and the Gatineau River. Rideau Canal offers boat rides in summer and ice sculpting as well as skating in winter.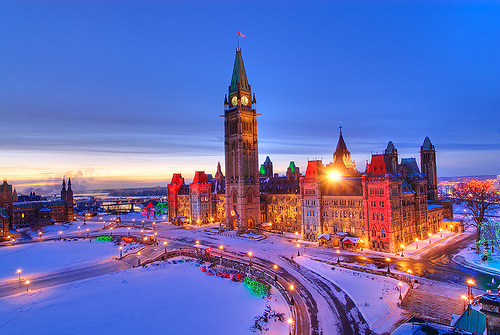 Ottawa Nightlife
For nightlife Elgin Street is a place to be. You can pop in to any of the clubs along the street to get a little taste of capital city's nightlife. Bulldog Pub is great, but also try Griffin's or Big Daddy's Crab Shack.
The Glebe
The Glebe is a shopping strip along Bank Street just south of the Queensway, which borders Ottawa's downtown on the south. With lots of specialty shops often focusing on art scene, The Glebe offers unusual experience and a look at more the alternative part of the city.
Sandy Hill
Sandy Hill is where most of embassies are located. The University of Ottawa is in this area which means there are many young people around all the time. To the north of Sandy Hill, across Rideau Street you can find the Byward Market – one of those "you name it" markets. Whatever your taste, you will likely find something of interest there. It's also one of the most popular Ottawa tourism spots. You'll find many visitors and vacationers browsing specialty shop during the day and enjoying the nightlife in any of numerous bars after the sun had set.
Somerset Heights
Somerset Heights used to be Ottawa's Chinatown, however an influx of immigrants from Vietnam influenced the name change in the late 70's. The Heights remains THE spot for people who like quality Asian food. Some of Ottawa's finest Vietnamese and Chinese restaurants are located in Somerset Heights.
Rockcliffe Park
Rockcliffe Park is further east and north of Sandy Hill and is the home of Rideau Hall – home of Canada's Governor General and 24 Sussex Drive – home of Canada's Prime Minister. Some of Canada's finest and most expensive real estate can be found in Rockcliffe Park, including the multi-million dollar home Michael Cowpland, the founder of software company Corel.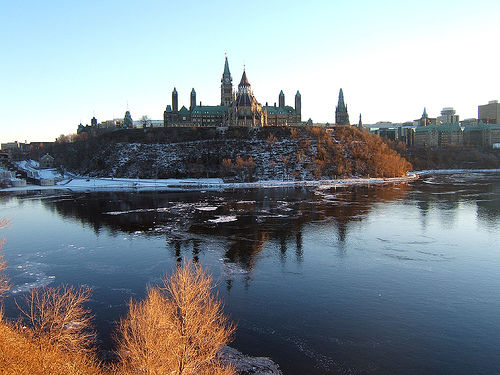 Ottawa is a lively city with lots of open spaces, green parks and some of Canada's finest national attractions. Sightseeing opportunities are endless and the city is busy with fun festivals all year round so you're guaranteed to have a good time and find something matching your interest level regardless of the season. Plus you'll be in the capital city of Canada – a country notorious for its fun and friendly people. Welcome and enjoy.