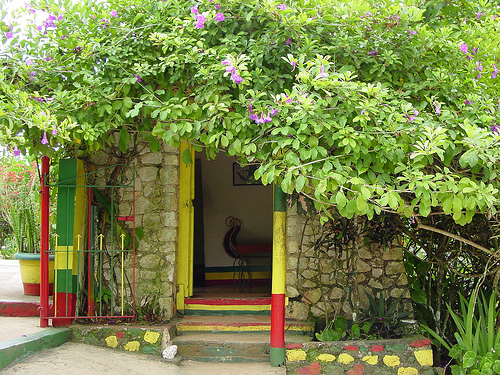 Bob Marley Mausoleum and Bob Marley centre are great attractions available to tourists visiting Ocho Rios in Jamaica. The mausoleum is located in small hamlet called Nine Mile that houses both birth place and burial place of Bob Marley, his childhood home and a cottage with two rooms that contains Bob Marley family keepsakes. A vegetarian restaurant and a Bob Marley memorabilia gift shop are adjacent.
Bob Marley Mausoleum Location
Nine Mile, the hamlet where Bob Marley Mausoleum is located is about an hour and a half away from Ocho Rios. It may seem like a long ride, but it's well worth it, especially if you're a fan of reggae music or Bob Marley as an artist, singer and musician. Zion Bus services run between Ocho Rios and Nine Mile offering affordable and comfortable transport to and from the place. Zion Buses to Nine Mile are often painted in bright colors with Bob Marley posters all over and play Bob Marley's music to get you all in the mood. You also have an option of renting a 4×4 and driving to Nine Mile at your own pace. Parking at Nine Mile is limited, though. Either way, visiting Nine Mile and the Bob Marley Mausoleum is likely to become the highlight of your stay in Jamaica. Do it, you won't regret.
Getting off Ocho Rios and its tourist resorts will introduce you to the real Jamaica. There are many Jamaican kids around Nine Mile asking tourists for dollars, but small trinkets from a dollar store or lollipops make them just as happy. This is what real Jamaica looks like and these things are part of it. It's also not unusual to see every local in sight ask money for everything. You could get approached by a random guy who would ask you to give him money for looking at the field he helped to maintain. Or he could ask you to give him money for simply talking to you. It's easy to reject if you don't feel comfortable giving anything away, but it could get overwhelming especially if this type of approach is not common in your home country.
Also, be aware that road to Nine Mile is not in the greatest of conditions and depending on a driver, could turn into a rather jumpy adventure. The further you get, the narrower, curvier and steeper it gets. You'll see the driver honking his horn just to let everyone know that he's coming through. It's different, it's Jamaica.
Bob Marley Mausoleum Address:
off the B3
St. Ann
Nine Mile
Jamaica
If you decide to drive there yourself, you may want to call first to make reservation. The phone number is +1 876 995 1763.
Driving Directions:
Take the B3 south from Ocho Rios to Brown's Town, which is about 24 miles away. Continue south to Alexandria, then turn east at the signs for Alva. Continue for next 9.25 miles until you arrive at Nine Mile.
Bob Marley Mausoleum Tour
The Bob Marley Mausoleum guided tour is about an hour to three hours long and will take you through Bob Marley's life, starting with his birthplace and finishing with his place of eternal rest. You will get to see the tomb of Bob Marley, which is elevated to about 6 feet above ground level. You will also get to see his cooking pit and his rock pillow.
The tour is accompanied by a lot of singing and is guaranteed to leave you in awe. It's highly inspiring to see that someone from such humble surroundings appealed to millions upon millions of people. Once within mausoleum, you will feel like you're feet away from one of the greatest musicians of 20th century.
The tours are open from 9:30am to 6:30pm every day and cost $10 – $15, depending on season.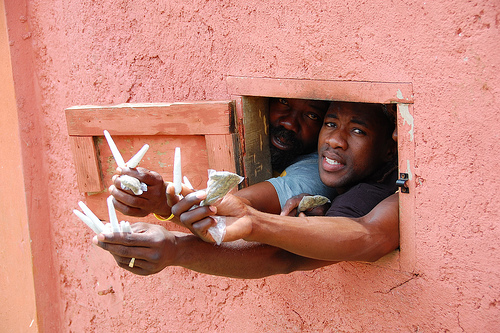 Bob Marley Mausoleum and Ganja
Ganja smoking is legal within the gates of Nine Mile. As a matter of fact, not only it is legal, everyone is expected to have some. As a parent, you may want to reconsider taking a tour if you're with kids. Similarly, if you're not a marijuana smoker or if it offends you, you may want to pass on visiting Nine Mile and the Bob Marley Mausoleum.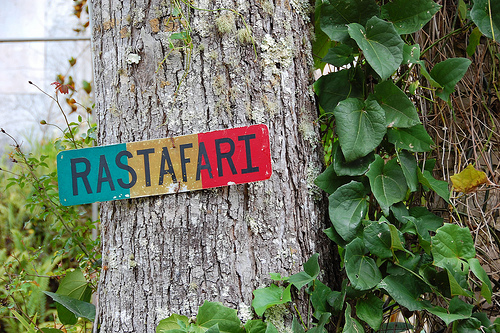 How to Behave at the Bob Marley Mausoleum
Visitors to the Bob Marley Mausoleum should be aware of a few customs surrounding near sacred grounds of Nine Mile. You are free to smoke ganja inside the Bob Marley Mausoleum, but you have to take your shoes off. The Bob Marley Mausoleum is a sacred place for many Rastafarians, taking your shoes off is a sign of respect and should not be disputed. It is not allowed to take pictures inside the mausoleum. The tomb of Bob Marley is placed in such spot so the sun gets to shine on it through a stained glass window Star of David. It's really breathtaking.