There are several places around the world that locals believe are a door to hell. Endless catacombs beneath the city of Paris, France for example or Dimmuborgir lava formations in Iceland. When it comes to sheer jaw-dropping effect, however, The Door to Hell by Darvaza in Turkmenistan takes the cake. I would also classify Darvaza as one of the places that should be on the must-visit list of every serious explorer who likes to visit Earth's most breath-taking sites. Darvaza is a gas crater the burning gates of which have been flaming for upwards of 37 years.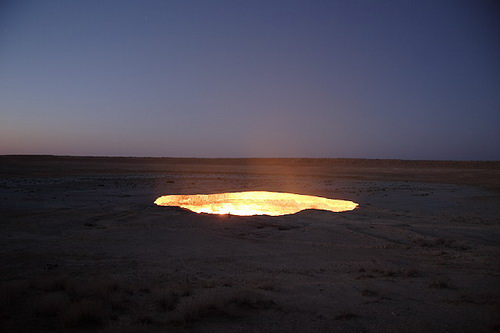 Darvaza Burning Gas Crater
Turkmenistan is very rich in natural resources. Currently a sovereign country, Turkmenistan was part of the Soviet Union until 1991. It was during rule of Soviet Russia, back in 1971 when geologists were conducting gas drilling in Kara-Kum desert and discovered an underground chamber close to the village of Darvaza (known in Turkmen as Derweze, but sometimes also referred to as Darvaz). The discovery of the chamber was accidental and resulted in drilling rig collapsing, leaving giant gas crater filled with poisonous gases exposed to the world outside. The concentration of gases within the crater was high so nobody dared to go down there. It was then when someone came with an idea to light the gas in the crater on fire so as to burn it before the poisonous fumes engulf the nearby town of Darvaza.
The geologists thought the idea of burning the gas was smart and went ahead with lighting the crater on fire. As it turns out, the supply of quality natural gas below the crater is near infinite as the crater's been burning since. At the time of this post, on June of 2009 the gas crater in Darvaza is still burning and has been since 1971 without interruption. No one can even imagine how much quality natural gas was burnt throughout the 38 years of the crater being on fire. No one can estimate how much more gas there still is. When they first lit the gas crater on fire, they thought the fire would go out after a few days. It's been more than a few day, it's been more than a few weeks or months. It's been decades and the gas crater is burning just as it did the day it was first lit. Putting all economical loses from wasted natural gas aside, imagine the ecological impact this burning gas has cause during decades of non stop burning!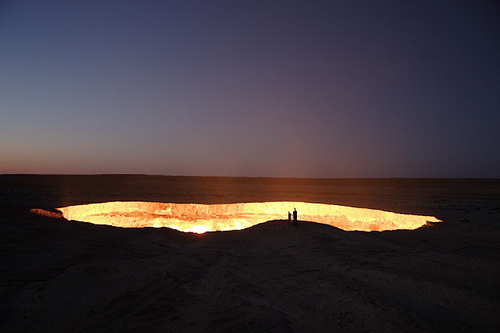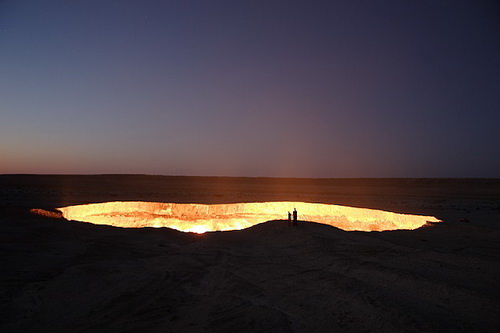 The Door to Hell
The locals from Darvaza have given the burning crater a name that suits it well – The Door to Hell. And everyone who visits Darvaza agrees with the name and finds it appropriate. When you look inside the burning gas crater, you do feel like this is what the door to hell would look like. No one dared to enter the chamber when it was first discovered and no one has dared there since. After all, everyone knows what kind of path a door o hell takes you. And it's not the path anyone would voluntarily want to embark on. Seeing the door to hell with your own eyes, however is an experience like no other. You will have long stayed in awe after experiencing the viciousness of the fire within the gorge of the burning crater. The Door to Hell would be an amazing vacation experience for the adventurous wonderers. This is a vacation idea that your mainstream tour operators don't know about. And that's the beauty of it.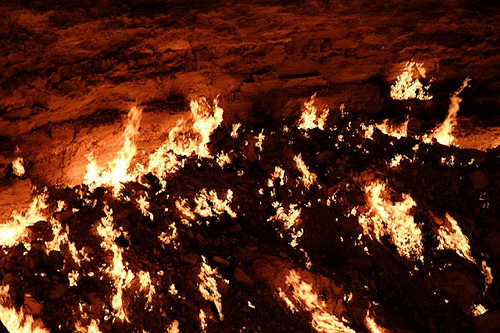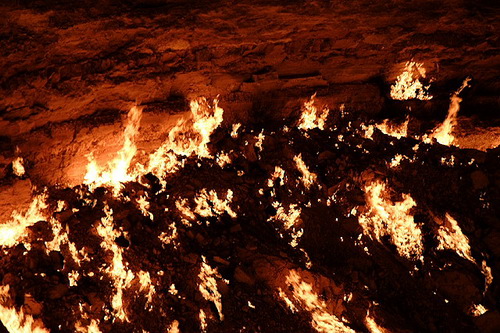 Darvaza Location
Darvaza is located in Turkmenistan but many sources mistakenly mention that it's located in Uzbekistan. Uzbekistan is a country next to Turkmenistan and Darvaza is definitely not located there. Which is a good thing as there have been travel warnings for Uzbekistan for a long time, urging all travelers to avoid the country due to high risks of terrorist attacks and/or civil disturbances. But Uzbekistan is not where Darvaza is.
Darvaza and the burning gas crater are located in the central area of Turkmenistan, about 260 km north of Turkmenistan's capital city Ashgabat. Check out the location of Darvaza on the interactive map below:
Is Turkmenistan Safe to Travel to?
Turkmenistan is located in the Middle East (Central Asia) and is surrounded by countries such as Afghanistan or Iran, which are known for frequent terrorist attacks, war, kidnapping and other crime against tourists. Despite proximities to war zones, the US Bureau of Consular Affairs has no warnings for Turkmenistan at this time, other than a recommendation to exercise normal degree of caution and keep aware of your surroundings at all times. For US Department of State Travel Website with more info and more up to date travel warnings, click HERE.
Canadian Foreign Affairs and International Trade Office however warns that tourists to Turkmenistan should exercise HIGH degree of caution based on sporadic clashes that occurred in September of 2008 in the outskirts of Ashgabat in the northern district of Khitrovka. For Canadian Foreign Affairs and International Trade Website with more info on Turkmenistan and more up to date travel warning, click HERE.
Despite its proximity to war zones and a violent clash from a year ago (which country hasn't had one like that) Turkmenistan seems like a reasonably safe country to travel to at this time. Unless situation changes dramatically, the regions around Darvaza appear safe and friendly. A tourist should however always remain cautious and don't needlessly attract attention on to themselves. Don't show off and don't walk desolate streets alone at night. Just general personal safety advice that should be in place no matter where you're travelling to.
The Door to Hell Video
Darvaza The Burning Gas Hole Photo Gallery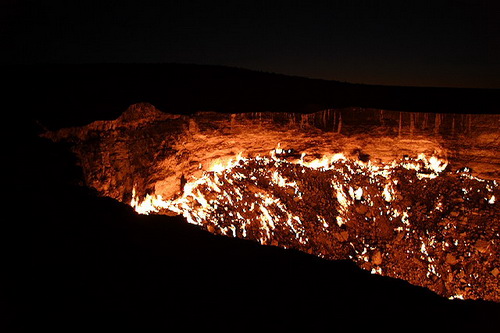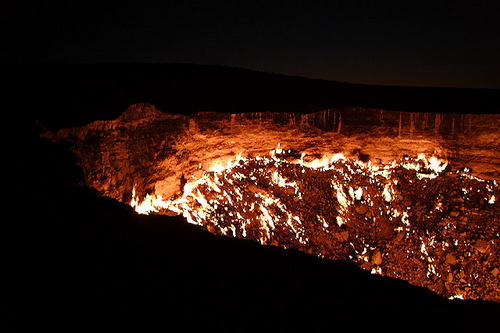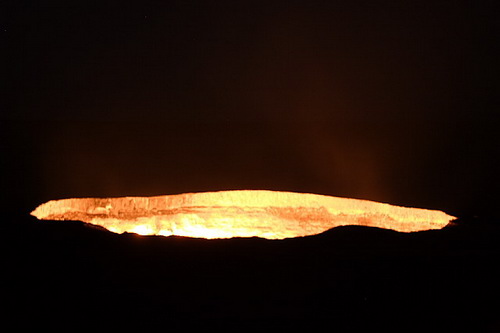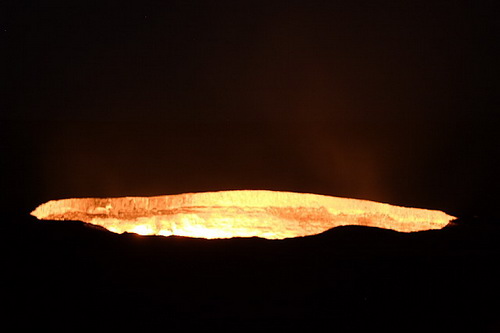 Photo Source: English Russia