If you find fascination in volcanoes and appreciate hidden powers of Mother Nature, then you've come to the right place. Erta Ale Volcano in Ethiopia may not be the most famous volcano in the world, but its fact sheet is feature rich and beyond impressive. And that's the beauty of it. Erta Ale Volcano is one of world's best kept volcanic secrets making it a hidden gem that lacks in no regard but delivers in many an awe.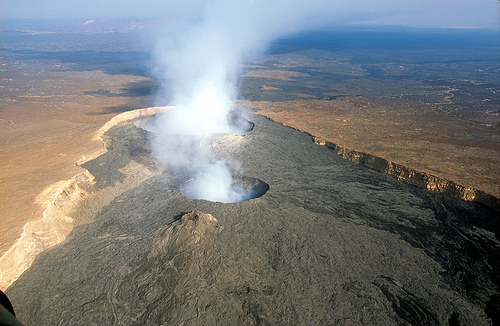 Erta Ale Volcano Map
Erta Ale Volcano is the most prominent feature of the Erta Ale Range located in the north-eastern Ethiopia in the region called Afar. Erta Ale Range is part of Danakil Depression which spreads across the Horn of Africa, partially covering Ethiopia as well as Eritrea, Djibouti and Somalia. Danakil Depression is known for being a stretch of land below sea level. The lowest point of Africa is located in Danakil Depression (155 meters below sea level). Check out the exact location of Erta Ale Volcano on an interactive, navigable map below:
Erta Ale Volcano Facts
Erta Ale is a Shield Volcano, which means its hill is formed almost entirely out of lava that was poured out of volcano's crater. Unlike Stratovolcanoes, Shield Volcanoes are less common, are more shallow (Stratovolcanoes are steeper) and spread over a larger area. Vast and flat profile of Shields gave them the name – they look much like shields of ancient warriors.
Erta Ale is the most active volcano in Ethiopia. The height of Erta Ale is 613 metres (2,011 ft) and since it is located within a depression that's below sea level, Erta Ale is one of world's lowest volcanoes. What Erta Ale lacks in height, it makes up for in width – Erta Ale is 50 km wide! To keep up with impressive measurements, the crater of Erta Ale is 0.7 x 1.6 km large. There is another, larger albeit inactive pit located south-east of Erta Ale's summit which measures 1.8 x 3.1 km (as you can see from the photo above).
In local Afar langue, the name Erta Ale means "smoking mountain" but not surprisingly, the southern pit is locally known as the "gateway to hell". The single most impressive part of the Erta Ale Volcano is Erta Ale lava lake which is notable for being the longest existing lava lake in the world. There is more info about the lava lake on its dedicated page: Erta Ale Lava Lake.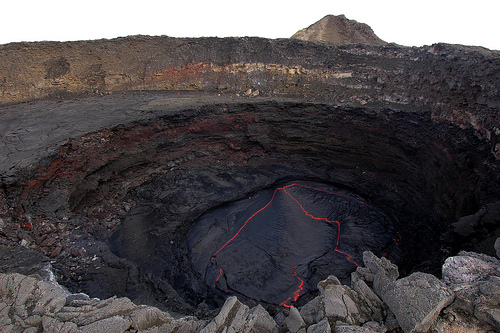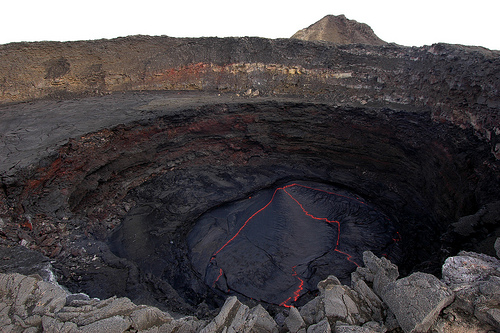 Erta Ale Volcano Eruptions
Erta Ale is very much an active volcano with latest eruption being as recent as 2009. Seven major eruptions occurred in last 125 years with most recent being the one from September 25, 2005.
Erta Ale in Ethiopia – Safety Issues
While Ethiopia is considerably safer when compared to many other African countries, it is not to say that its overall safe. Given that it shares border with hostile Somalia with Somalis operating in some regions of Ethiopia, daring to travel to the country bears certain risks. According to many reports from the college of scientists, ongoing research on Erta Ale has not been without issues. One of the reasons is that the Afar Depression is one of the hottest regions in the world and another is the hostility of local Afar people as well as unpredictable, but possible presence of Somali separatist groups known for their guerrilla attacks and kidnappings of foreigners. Afar region has long been known for activity of armed insurgent groups.
Foreign Affairs and International Trade Canada has an ongoing travel warning for all Canadians traveling to Ethiopia. While "Exercise high degree of caution" warning applies to some regions of Ethiopia, there is an "Avoid all travel" warning (same warning applies to war torn region, such as Afghanistan or Iraq) in place for Border with Eritrea, Danakil Desert and Somali region. It's the Danakil Desert region which includes Erta Ale range. According to the warning, the area is heavily mined with fatal incidents occurring each year, plus there are ongoing armed assaults with some attacks targeting tourists and convoys. Furthermore, Afar region towards the border with Eritrea (north of Afar) has been subjected to military tension due to border disputes. Kidnapping and banditry occur often in the region.
US Department of State website simply mentions that "travel to the northern Afar region is discouraged" and that "armed insurgent groups operate Afar region of Ethiopia".
That makes for an interesting tourist destination as there are high guarantees none of your friends, regardless of how well travelled they are would have been there. The risk associated are considerable so one would have to think carefully whether it's worth it and how to prepare for such trip so as to avoid unpleasant surprises.
Erta Ale Volcano Video
Check out this video from the Danakil Desert featuring Erta Ale volcano including lots of footage of the Erta Ale lava lake. Impressive aerial photography of the volcano is towards the end of the video:
While Erta Ale seems like an extremely attractive travel destination, I'm a bit deterred by potential dangers of the region. The activity of armed insurgents and notorious hostility of local Afar people spoil most of what's so great about the region. Perhaps one of these days when I man up I may head down there. I'd like to hear from everyone who visited Ethiopia to share their stories and set the record regarding the dangers of the regions surrounding Erta Ale straight. In the meantime, anyone wishing to visit Africa but not willing to compromise their safety no matter how attractive a location, you can always rely on the safety of Botswana. I'm putting Ethiopia on hold for the time being.