Remarkable Rocks are a cluster of peculiar granite boulders placed atop a granite dome on the south-west shore of Kangaroo Island in Australia. It is difficult to trace down the origins of the name "Remarkable Rocks" but it is obvious that whoever gave the formations the name was impressed with them at first sight. Let's look at some of the Remarkable Rocks Facts and History: Remarkable rocks were shaped into their remarkable forms by 500 million years of exposure to the wind, rain and seas spray. Remarkable rocks are often compared to the abstract art of English sculptor Henry Moore famous for his public works of art displayed around the world. Remarkable Rocks sport impressive sizes, giving an impression of hand carved caves. Visitors can hide underneath them or climb on top of them. They are huge and unusual. Some of the Remarkable Rocks are covered in golden orange lichen which gives the rocks different hue at different parts of the day which creates opportunities for spectacular picture taking.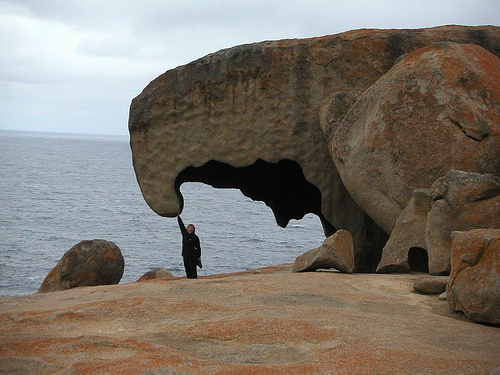 Remarkable Rocks Location
Remarkable Rocks are located in the southern part of Flinders Chase National Park which covers 33,000 hectares on the western side of the Kangaroo Island in Australia. The Remarkable Rocks are so large you can clearly see them from the satellite view on Google Maps. The interactive, navigable map with location of remarkable Rocks is provided below. Unzoom to see the proximity of Kangaroo Island to Adelaide or other Australian mainland towns.
How to Get to Remarkable Rocks
To get on Kangaroo Island, jump on a ferry in Cape Jervis on Australia's mainland. You can get to Cape Jervis from Adelaide by bus. If you are in Adelaide, you may also consider flying to Kangaroo Island as plane tickets are very reasonably priced (starting at $75.00 AUS one way). If you take the plane, you will get off in Kingscote, which is Kangaroo Island's largest town. If you take a ferry, you will be taken to Penneshaw. Both of these towns are on the east side of Kangaroo Island, separating you from Flinders Chase National Park where Remarkable Rocks are located by more than 100 kilometers.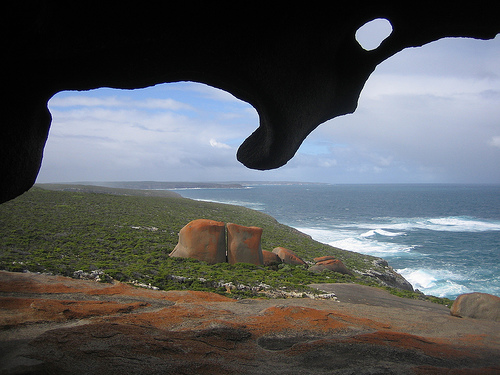 Once on Kangaroo Island, is it best to rent a car to go exploring. There is no taxi service provided on the island so unless you rent a car or bring one with you, you will have a bit of a difficult time getting around. Ferries between Cape Jervis and Penneshaw carry both passengers and cars, so your best bet is to take a car rental with you. As an alternative to all this, you can book entire tour with a tour operator so you will have bus services and all other transfers arranged. This option is the most costly and gives you least freedom, but is suitable for people who'd rather pay extra and have everything taken care of.
Bus service does operate on Kangaroo Island but due to popularity of Flinders Chase National Park, unless you make reservations up front, you may end up not being able to get a seat. KI Transfers and Smart Car Transfer Company offer transfers from anywhere on the island to anywhere on the island. If you are in good physical shape, you may also consider renting a bicycle and soak in the best the Kangaroo island has to offer with wind in your hair.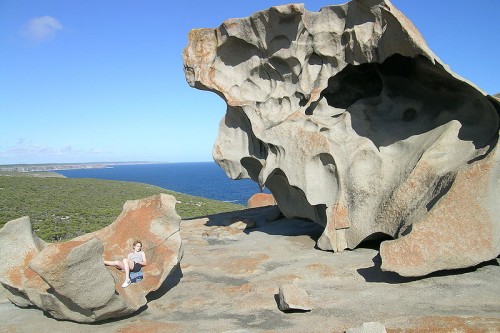 Flinders Chase National Park
While a visit to Kangaroo Island can be done as a day trip from Adelaide, there is more to it than Remarkable Rocks. Flinders Chase National Park itself is a home to several geological phenomena (including Remarkable Rocks and impressive Admirals Arch) and a sanctuary to many endangered species (including kangaroos, koalas, wallabies, and platypus). The entire area of Flinders Chase National Park is protected but with lots of recreational opportunities to engage in. Hiking and trekking are especially rewarding and several camp sites offer camping facilities (Snake Lagoon, Harveys Return, West Bay and Rocky River) or you can opt for a night at the historical Cape du Couedic lighthouse.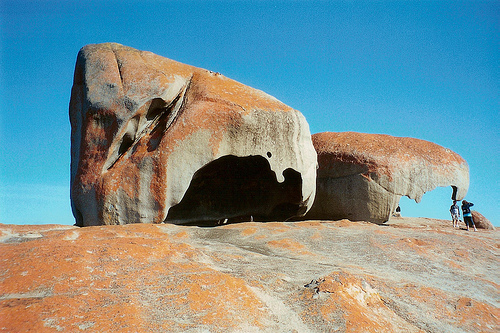 Remarkable Rocks Video
This video gives good perspective of the size of Remarkable Rocks:
Remarkable Rocks on Aussie Kangaroo Island is one of those attractions not many people recall when thinking of Australia. As a matter of fact, not many people who have not spend much time in Australia would have heard of Remarkable Rocks. The visit to Flinders Chase National Park is truly "remarkable" and is a recommended destination on your "exploring the world" travels. Here's a good vacation idea for all of you who are traveling to the country down under. Visit Remarkable Rocks on Kangaroo Island, the size and shapes of these formations are staggering and if you catch it at sunset, the pictures will be breathtaking. Welcome to Australia.