Preikestolen is a massive cliff in Norway that towers 604 meters (1982 feet) in near vertical drop over the ocean. When famous French writer Victor Hugo visited the fjords, he referred to them as "the most terrifying of the ocean reefs." Preikestolen is a natural rock formation that was carved by melting glaciers at the end of the Ice Age. The 25 square meters plateau on top of Preikestolen Pulpit Rock offers breathtaking views of the fjord and creates terrific photo opportunities. You have quite likely seen pictures of people standing on top of Preikestolen Pulpit Rock before and found them suspensfully bewildering. You probably didn't have them associate with the name of the place, but now you know. The most spine-tingling cliff overlooking the magnificent ocean fjord is called Preikestolen and you can find it in Norway. Thanks to its near straight vertical properties, Preikestolen is popular with BASE jumpers. BASE jumping is legal in Lysefjorden area but as it goes with extreme sports, some BASE jumpers jumped to their deaths here.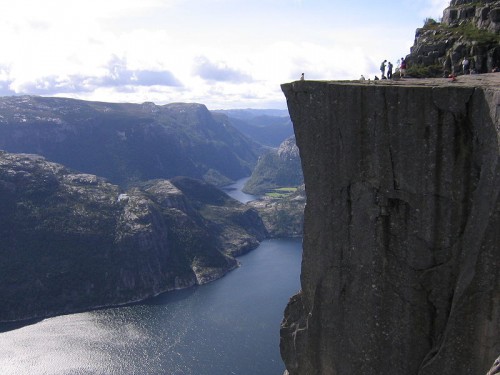 Preikestolen Location
Preikestolen Pulpit Rock is located in south-western Norway, in Forsand municipality of Rogaland county, on the edge of 42 km long ocean fjord called Lysefjorden. Kjerag Mountain, which are a home to another famous natural attraction in Norway – Kjeragbolten, a boulder wedged between two vertical cliffs is located at the end of Lysefjord, opposite of Preikestolen.
You can see the location of Preikestolen Pulpit Rock on a navigable, interactive map below:
How to Get to Preikestolen
Most travellers who visit Preikestolen start their tour in Stavanger – closest major town to Preikestolen in south-west Norway. Ferries leave Stavanger three times a day and will deliver you to small town called Tau in about 40 minutes. The cost for a boat ride is 50 Norwegian Krone. Bus service and taxis are synchronized with the ferries and will take you to the parking lot where trekking route leading up to Preikestolen begins for 65 Norwegian Krone. From there you are on your own.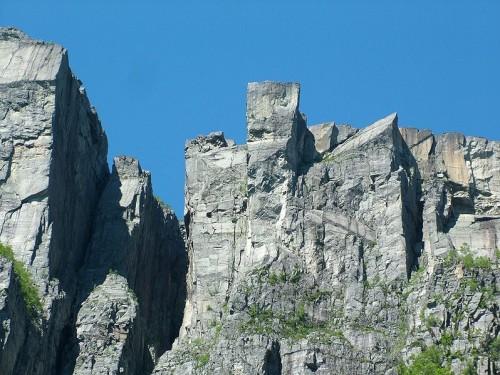 The hike up the hill will take between 1 hour to 3 hours, depending on your fitness level. The total length of the trail from the parking lot below up on top of Preikestolen is 3.8 km (2.4 miles) which is not that long – on flat terrain, an average trekker could cover such distance in less than an hour. The elevation difference between the parking lot and Preikestolen is only 334 metres (1096 feet). This should not cause any issues to most hikers, however do keep in mind that vertical sickness can affect anyone, especially those who come from coastal areas or spent a long time close to the sea. Have enough water on you to avoid dehydration and pack in something to eat as well. Most of all, make sure you're wearing proper trekking shoes with hard soles as terrain is rather uneven and you will often walk on rocks with sharp edges.
The entire hike is very scenic so you will be getting rewards for your uphill walk with each step. It gets especially magnificent as you start approaching the top and the first glimpses of Lysefjord from high elevation come to sight. Once you have reached the top of Preikestolen, make sure you carefully approach the edge of the plateau and lay down on it so you can look straight down into the abyss below. more than 600 meters long drop will take your breath away and an adrenaline rush will evoke feelings you won't easily forget.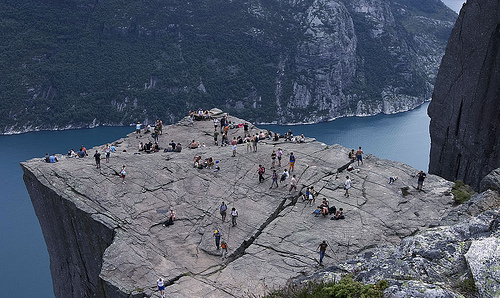 Preikestolen Accommodation Options
You have several accommodation options if you wish to stay close to Preikestolen. Pulpit Rock Lodge is located on Rv 13, the main road that goes through the area. Recently rebuilt youth hostel Preikestolen Fjellstue is located in the Ryfylke hills, close to Refsvatn Lake. Aside from stunning scenery and proximity to Pulpit Rock, Preikestolen Fjellstue also offers great fishing opportunities and has several associated camping grounds for backpackers with tents.
Other Names of Preikestolen
The name Preikestolen is sometimes misspelled as Prekestolen. Translated from Norwegian to English, Preikestolen means Pulpit Rock but is sometimes referred to as Preacher's Pulpit. Before it was named Preikestolen, the Pulpit Rock was known by its original name Hyvlatonnå, which means "the tooth of a woodplane".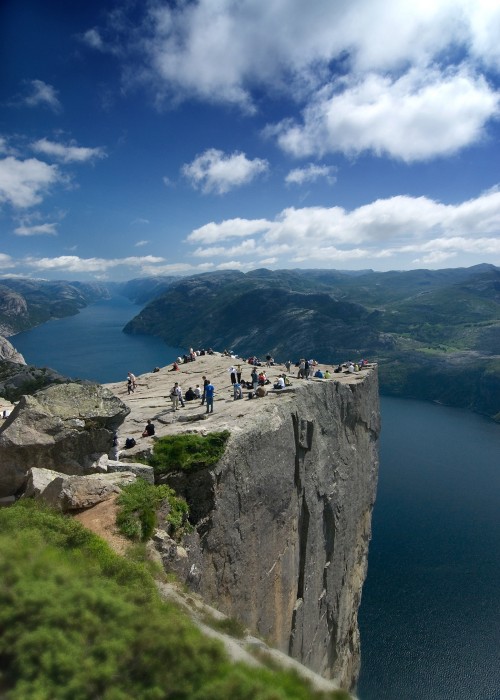 Preikestolen BASE Jumping
If climbing Pulpit Rock and looking over its edge is not enough of a challenge for you and you'd like to engage in something that pumps more adrenaline through your veins, then you may want to consider Preikestolen BASE Jumping. However given that BASE jumping is one of the riskiest adrenaline sports in existence, make sure you have sufficient experience and understand potential risks. For a feel of what Preikestolen BASE Jumping would look like, check out the video below:
Preikestolen Deaths and Accidents
In past 15 years, there have been more than 30,000 BASE jumps performed in Preikestolen and Kjerag Mountain area. Out of 30,000, only 9 people found their death on the steep cliffs around Lysefjord. While one death or accident is too many, the statistics clearly suggest that BASE jumping enthusiasts know what they are doing and are able to enjoy the rush safely. 9 deaths in 30,000 BASE jumps – you find more deaths in other popular tourist activities than here.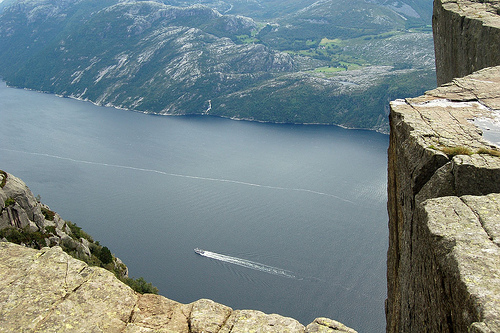 Lysefjord Cruise
If climbing up the hike to Preikestolen is not an option for you, due to health concerns, you may opt for Lysefjord Cruise. It's a completely different adventure with different experience. The ship will take you for a cruise up and down the Lysefjord offering the view of Preikestolen from different perspective. Seeing this majestic vertical cliff from the ocean below is as breath taking as seeing the fjord from up there. Lysefjord Cruises are offered by Rodne Fjord Cruise company and cost 350 Norwegian Krone.
Preikestolen Pulpit Rock Video
The video below takes you for a hike up the cliff all the way on top of Norway's Preikestolen Pulpit Rock and offers a glimpse of magnificent views available to those who visit this majestic place:
Preikestolen Pulpit Rock in Norway is without doubt one of the most beautiful places on Earth. Climbing up on the plateau with views of magnificent Lysefjord below is nothing short of standing on top of the world. Give yourself the pleasure of this experience and pay Norway a visit. Preikestolen is wild and beautiful year round.