Maho Beach is definitely one of the most impressive beaches in the world. It's located on the island of St. Maarten in the Caribbean – St Maarten is part of the Netherlands Antilles. Maho Beach doesn't stand out from other beaches because of the sea, sand, waves, or anything like that. The beauty of Maho Beach lies in its location immediately adjacent to the Princess Juliana International Airport of St Maarten. The runway of the Princess Juliana International Airport (International Air Transport Association (IATA) airport code is SXM) is rather short so pilots landing the aircraft must touch down at the very beginning of runway 10, otherwise they wouldn't have enough distance to safely stop the plane. Since Maho Beach is located right across the road from beginning of airport's runway, landing planes are so close to the people on the beach, you almost feel you could touch the wheels if you jumped up.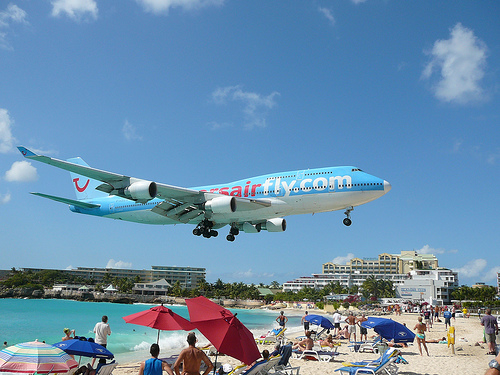 Maho Beach Location
Maho Beach is located on the Maho Bay, which is on the Dutch side of St. Maarten, the island in the North East of the Caribbean, about 300 km east of Puerto Rico. Northern part of St. Maarten is part of French Guadeloupe, while south belongs to the Netherlands. Maho Beach is facing the western end of The Caribbean Sea which means you'd be able to watch spectacular sunsets from this beach.
Location of Maho Beach can be seen on the map below: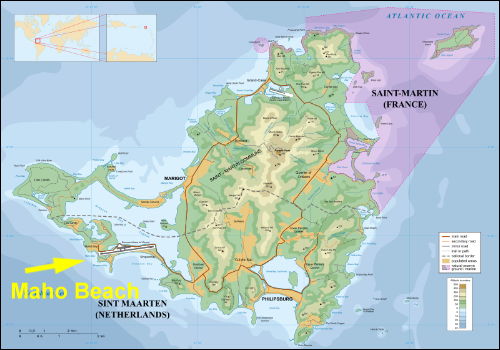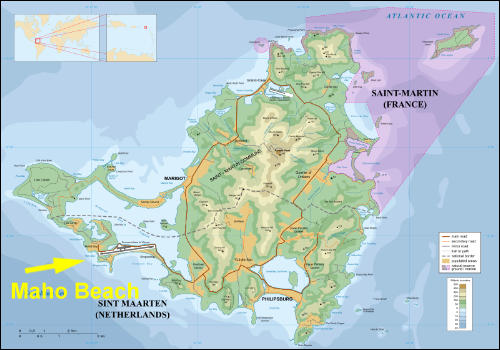 Maho Beach and Landing Planes
Thanks to its immediate proximity to the airport, many tourists are attracted to Maho Beach in order to be right underneath the aircraft seconds before landing. Giant planes would be landing virtually feet above your head. This creates amazing opportunities for some of the most spectacular beach pictures and videos. It is truly easy to impress with an image of a full size, massive aircraft so close above your head.
Aside from amazing picture and video opportunities, the thrill of being on a beach while giant Jumbo Jets are landing above your head delivers unsurpassed experience. There is no other place in the world where you could watch planes passing so close to you. Watch the video of Boeing 747 landing over Maho Beach below:
Maho Beach and Taking Off Planes
A whole new thrill offered by immediate proximity of Maho Beach to the Princess Juliana International Airport are take offs. A plane would navigate to the beginning of the runway and turn jet turbines on full, which causes blasts so strong, that if you're on a beach right behind the plane, it will throw you into the sea. By stepping aside you can avoid strong currents and watch sand from the beach being blown a long way into the sea.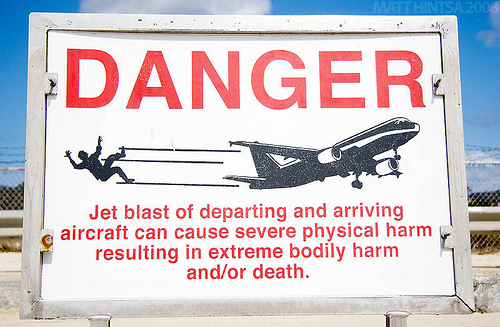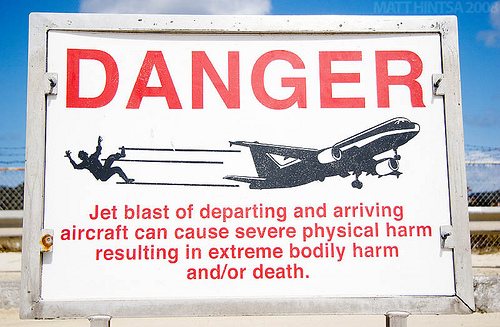 This video shows from a good perspective what it looks like on Maho Beach when a jumbo jet takes off from the Princess Juliana International Airport:
Maho Beach – Things to Do
Maho Beach is a stretch of white sand on Maho Bay. Part of the Caribbean Sea that washes these sands is at time calm and excellent for swimming, yet other times it gets pretty rough with large waves which makes swimming a little more challenging, but is excellent for wind-surfing. On the sides, Maho Bay is lined with rocks offering great opportunities for diving or snorkeling. There is also a cave you can dive into for an additional thrill, but may not be advisable when waves are big.
Best Time to Visit Maho Beach
If it's the thrill of landing planes you want (you should, this type of thrill is not offered by any other beach), then the best time to visit Maho Beach is during the weekends. Air traffic is the highest on Saturdays and Sundays with its peak being in early afternoon hours. If you can time your visito to Maho Beach to 1pm – 4pm on a Sunday afternoon, you will see one plane landing after another.
Maho Resorts
The beach itself isn't very long, but there are several quality resorts close by, including hotels, restaurants and bars on the beach. Nearby facilities include Caravanserai Resort, Maho Beach Resort, Bamboo Bernies and Sonesta Maho.
Maho Beach – Sunset Beach Bar
Sunset Beach Bar is a small open air bar located directly on Maho Beach. Its position on the southern side of the beach ensures that you are safely away from blasts cause by taking-off planes, yet you are right there for the front row view of landing planes. Sunset Beach Bar was closed in July of 2008 by Dutch authorities in order to do some renovations to it. It was planned to be reopened under a new name – Sunset Bar & Grill (Maho Beach is often referred to as Sunset Beach, but I've also heard it referred to as Airport Beach). Unfortunately Sunset Bar & Grill was completely destroyed by Hurricane Omar which directly hit and severely damaged entire area, including close by hotels and resorts. Bamboo Bernies and Bliss as well as nearby Royal Islander Resort are presently closed till further notice.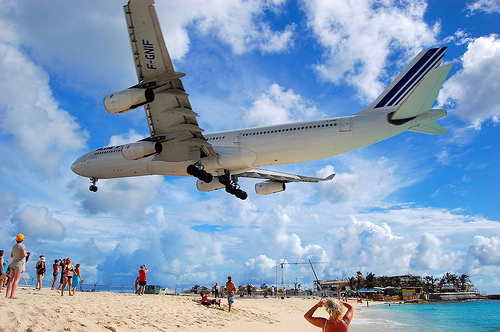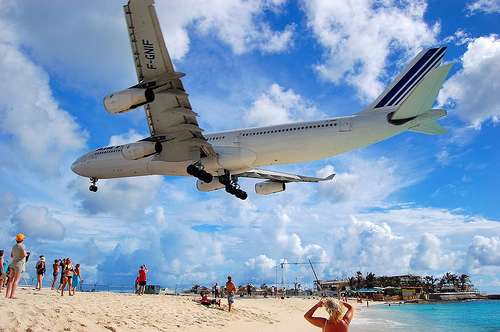 Another video of a giant plane landing at the St Maarten airport, demonstrating how much of a thrill it is to be on Maho Beach: