I'm sure many travellers have or will have a hotel experience that will seem as though they stayed in a zero star hotel. I know I had such, yet many of those hotels boost four stars ratings. But let's not talk about negative lodging experiences, let's talk about the first hotel in the world that comes at you straight saying that it's a Zero Star Hotel. Named to reflect its rating in language native to its homeland, Null Stern Hotel in Sevelen, Switzerland is the first official, and the only zero star hotel in the world. Obviously, since Null Stern Hotel has a zero star hotel rating, it offers no amenities one is used to getting from hotels – for example you would get no central heating or daylight, however as a guest you would be provided with hot water bottles to keep you warm during colder days. A pair of earplugs to help blot out the ventilation system noise will also be complimentary. Naturally, Null Stern Hotel is also priced at the level that reflects its ratings – it costs an equivalent of $9 to stay there a night. It's a bed and no breakfast in its most utter form.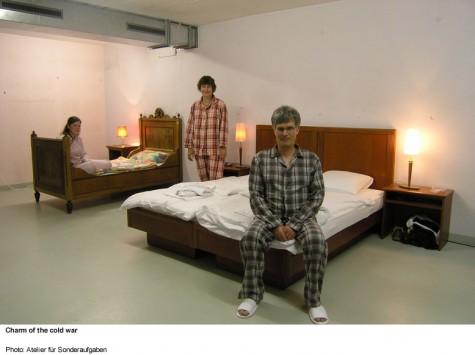 How Was Null Stern Hotel Started?
In a town of Sevelen that located the Swiss canton of St. Gallen, twin brothers Frank and Patrik Riklin took an unused cold war nuclear bunker and turned it into a Zero Star Hotel. The only view of the outside world it would offer would be from the monitors in the lobby and only lucky few would get to shower in warm water. With such amenities in place – needless to say – the worldwide buzz around the Null Stern Hotel is massive.
Frank and Patrik Riklin who own Atelier für Sonderaufgaben (studio for special works) in St. Gallen were initially looking for a place to lodge guest musicians who were invited to perform at a local venue. Since there was no room in Sevelen for a new hotel, someone suggested taking a look at an underground nuclear bunker. After initial inspection to Sevelen officials, the Riklin brothers were told that there is no way anyone would want to stay in that hole. One thing lead to another, Frank and Patrik Riklin felt challenged, so they went and got paperwork ready and started thinking of the ways to make use of that chunk of concrete block. There was only one requirement that Swiss army imposed upon new owners of the bunker – none of the walls can be removed and bunker must be ready to revert to its original purpose within 24 hours should there an attack on Switzerland.
Facing the biggest creative challenge of their lives, Frank and Patrik Riklin were not deterred and an idea of a zero star hotel was born. They gave it zero star rating so as not to limit themselves on what the place is offering. The idea became an instant hit on the internet and as the buzz continued to grow, the Riklins were offered partnership in a project by Minds in Motion, SA – a hospitality company with international reach. Daniel Charbonnier and Samira Singhvi – founders of Minds in Motion, SA are looking to expand on the idea and create a chain of zero star hotels that would be available worldwide, not just in Sevelen, Switzerland.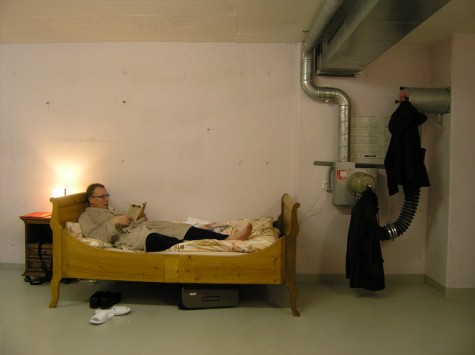 In these difficult economic times, the opening of a zero star hotel could not have been timed better. Perhaps the Null Stern Hotel project will begin a whole new era of hotel accommodation that will reflect on people's inability to afford extremely expensive accommodation offered by "regular" hotels. It will be interesting to see how this idea takes off once it's fully available. It was not so long ago when world's first 7 star hotel (Burj Al Arab in Dubai, United Arab Emirates) opened for public and now we're seeing the opposite end of it with Null Stern Hotel.
Comfort at the Null Stern Hotel
Null Stern Hotel will come with the finest in customer lodging:
military-style bunks in place of beds
hot water bottles to make up for no central heating
earplugs in case you can't sleep because of the noise from the fans
complimentary slippers if floors are icy
no windows, just four white walls everywhere you look
hot water to shower in is limited, hence wheel of fortune will determine who will have to shower in cold water
…but hey – that's all part of the adventure. That's the beauty of Null Stern Hotel. That's the rush and magic of staying at a hotel that has no stars. But most of all – it's cheap!
Surely, if you have extra £11 you could go to an actual hotel. Albeit seedy, but still a hotel with a view, a bed and a shower. However even though it's only £11 extra we're talking about, it almost tripples the cost of the stay at a Null Stern Hotel.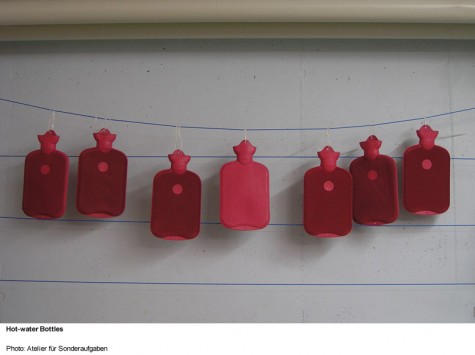 Null Stern Hotel Luxury Bookings
Aside from really cheap "standard layout" accommodation, Null Stern Hotel will also offer "luxury bookings". If you opt for luxury, the cost will be in the neighborhood of £11 a night and you will get to sleep on a plush, antique Biedermeier bed instead of a military bunk-bed. Complimentary morning coffee and an afternoon cookie are also included in the price of a luxury booking.
Null Stern Hotel Official Opening Date
According to the press release from April 20, 2009, Null Stern Hotel will officially open on June 5th, 2009. The opening ceremony will be held in Teufen, Canton Appenzell Outer Rhodes, Switzerland, instead of originally intended Commune of Sevelen. At the time of press release, still unopened Null Stern Hotel has already had 1000 reservations made.
Check out video with CNN Business Traveller feature on the Null Stern Hotel below:
All photos of Null Stern Hotel were provided by Mind in Motion and are used with permission on Vacation Ideas [dot] me.
For more information or to make a reservation check out the Null Stern Hotel Official Website.