Jerome, Arizona Grand Hotel is said to be the spookiest, most hunted hotel in all of America. And judging by local stories, the reputation of being America's largest ghost town is well deserved.
Town of Jerome
Jerome is an old mining town in Arizona. Last of its working mines closed back in 1953. By then Jerome had changed from boomtown to hippie hang-out to its current artists' colony and historic destination – with a reputation for supernatural happenings.
It has long had a reputation for being America's most haunted town. It comes as no surprise that Jerome fills up with tourists of all sorts at around Halloween and the legends surrounding it make it a perfect Halloween vacation destination. Next time you want to be close to the ghosts on Halloween, you know what to do. Just head over to Arizona and look up the town of Jerome.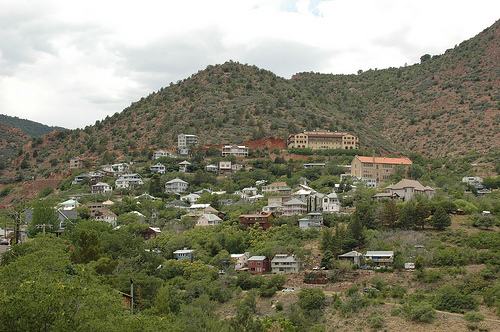 Grand Hotel
In the early 1990's, the building now serving as The Grand Hotel was a hospital serving gold and copper miners. The hospital closed when the last mine in Jerome closed and the building was abandoned. Nobody wanted to touch it because of its reputation of a building that's haunted by the ghosts of people who died in the hospital.
That was true until 1997, which is when the Jerome hospital was purchased and restored as a hotel. Today, The Grand Hotel is said to be the most haunted hotel in the town of Jerome, Arizona.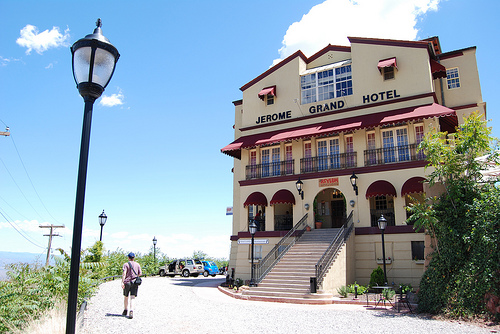 The Death Rooms
Jerome's Grand Hotel has several death rooms. Patients who were severely wounded or so sick they were likely to die overnight were moved to one of the Death Rooms and left to die there. Guests who stayed in one of The Death Rooms report hearing sounds of deathly groaning as if coming from someone struggling for breath.
Finding toiletries moved around in the bathroom seems to be a rather common occurrence at the Grand Hotel, but it's even more common to have dreams involving a nurse with a clipboard writing notes at your bed. I always wanted to have a dream like that. I'd have so many questions to ask the nurse…
Jerome, Arizona Horror Stories
One of the hospital workers was decapitated by machinery and his ghost haunts the original grille-fronted elevator that is still functioning and is in use by hotel guests on daily basis.
Hospital's maintenance guy has hanged himself in the basement and now his ghosts turned building underground area into his kingdom.
A copper miner known as Headless Charlie was trapped underground during a dynamite blast gone bad and is believed to be roaming the old mine tunnels.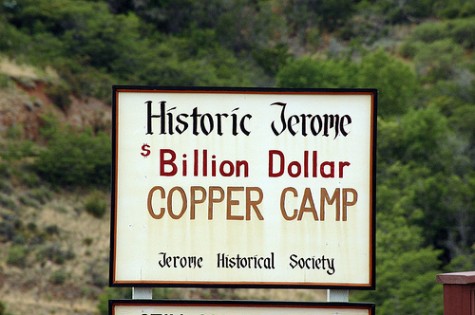 The Halloween Capital of Arizona
The Grand Hotel is not the only haunted hotel in Jerome, Arizona. The entire town is a popular destination for the ghost hunters and super terrestrial fans. The closer it gets to Halloween, the busier it gets in Jerome. The Spook Hall, local community center holds big Halloween parties on Halloween and Jerome expands in size by several thousand towards the end of October.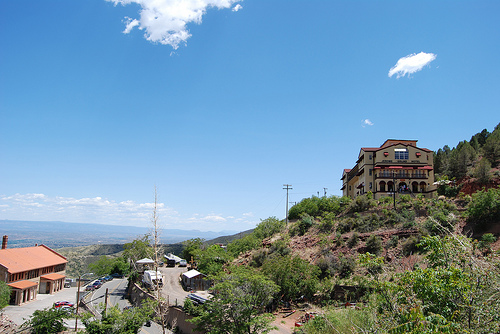 According to one of the locals, Jerome, Arizona is named after Winston Churchill's grandfather and father of Jenny Jerome. If you're a fan of band Tool, you should know that Maynard, the singer chose Jerome as his home town and lives there. The proximity of Jerome to Arizona's Grand Canyon and location right above the Verde Valley (Jerome is also the most vertical city in America) with legendary Route 66 passing close by offer countless opportunities to enjoy the area even if haunted towns are not at the top of your interests list.