Aside from having world's largest deposits of lithium and being home to world's largest salt flat, Bolivia boast another prime that attracts adventurers and adrenaline junkies from across the globe – The Most Dangerous Road in the World. The Road of Death or as it goes in Bolivia's native Spanish: El Camino de la Muerte is well deserving of the "most dangerous road in the world" title and upon seeing the photos or experiencing the Road to Death in person, you will wholeheartedly agree.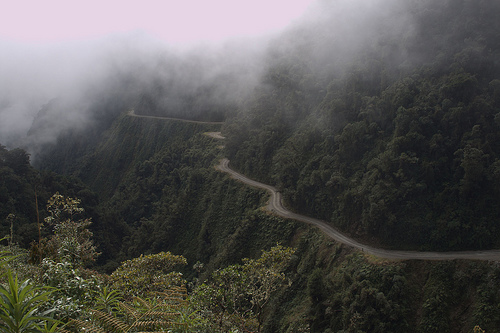 El Camino de la Muerte stretches for almost 69 kilometers as a single lane road in poor condition and with no guardrails along the eastern slopes of The Andes which are notorious for extremely steep and endless drop-offs. To top it all up, the area gets often engulfed in fog with zero visibility and the road gets covered in mud with zero traction during rainy season. But that's not it yet. Even if you are the safest driver in the world and can handle bad road condition with ease, you are still looking at possibilities of being his and knocked off the road and down into the canyon by loose rocks from the hillside. Excited yet? Well, there's one more thing – I have already mentioned that El Camino de la Muerte is a single lane road. What I didn't mention is that it stretches for miles upon miles without any turnoffs or rest areas. If you happen upon on oncoming vehicle, you have no option but to try to squeeze next to each other with one of you taking on the birdseye view along the vertical crack. At times you however meet with an oncoming car on a stretch that's simply way too narrow so the vehicle coming down needs to reverse and start backing uphill towards a wider stretch to let the other vehicle pass. That backing up along narrow, windy road with the chasm of death just centimeters from your wheels is the most dangerous part of the journey. The smallest of errors can send you 800 meters down in near free fall. Imagine the impact!
Yungas Road Location
The Yungas Road is the official name of the Road of Death which was assigned to it because it stretches along the Yungas, a forested area on the eastern slopes of Bolivian Andes. There are two parts of Yungas Road: North Yungas Road and South Yungas Road, with Bolivian capital city La Paz serving as a divider. North Yungas Road (connecting La Paz with Coroico) is the more dangerous of the two, but South Yungas Road (connecting La Paz with Chulumani), even though less dangerous is still no where near safe and also claims many lives. You can navigate through the satellite view of the location of Bolivian Road of Death by using the interactive map below:
Yungas Road Deaths
There is no knowing what the death count of Yungas Road aka El Camino de la Muerte is, but if you conduct just a little search on the internet, you will find thousands of horror stories about countless people who plunged to their deaths as they tried to cross this South American road. But even though the dangers of El Camino de la Muerte are well know to both locals and visitors, people have to take it because there is no other road across this part of The Andes. It is estimated that Road of Death in Bolivia claims the lives of about 300 people each year (about one vehicle full of passengers every two weeks). As you drive along El Camino de la Muerte, you will see the side of the road lined with crosses. These crosses were put in a place where someone died by their relatives or friends.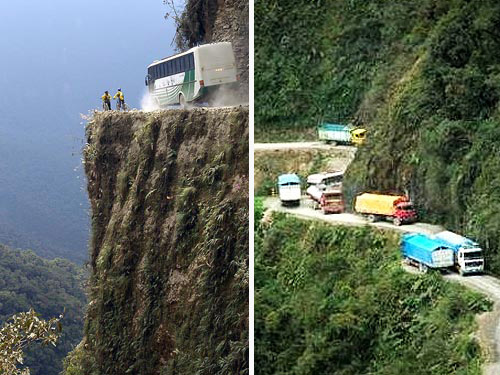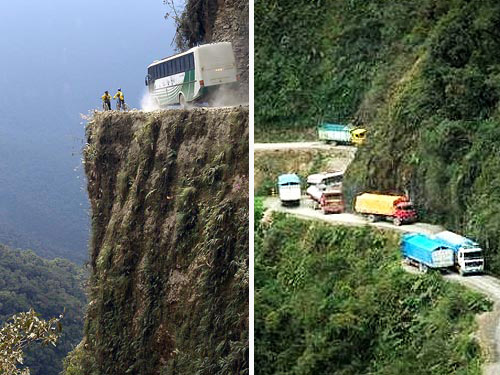 History of Bolivian Road of Death
El Camino de la Muerte was built in the 1930's – during Chaco War by the prisoners of war from by Paraguay as the only road connecting Bolivian capital La Paz with Amazon reainforest in North Bolivia. Given its location on steep slopes of The Andes, El Camino de la Muerte has been claiming lives ever since it was open for use. Due to its legendary dangers, El Camino de la Muerte was given a label of "the world's most dangerous road" by the Inter-American Development Bank in 1995.
As the death toll kept rising, Bolivian government with aid from international sources initiated the construction of replacement route in late 1980's. At present time there is a replacement route in place for one of the most dangerous parts of the 56 km (35 miles) long North Yungas Road (the one connecting La Paz with Coroico). The section between Chusquipata and Yolosa now contains a re-route to the north, which is paved according to international standards and meets safety requirements (quality asphalt, drains to keep water off the surface, solid bridges, guardrails along the plunges and multiple lanes for safer navigation).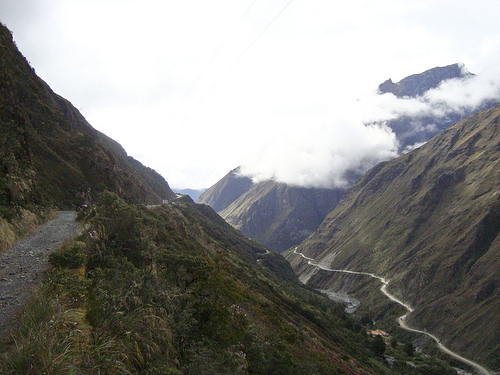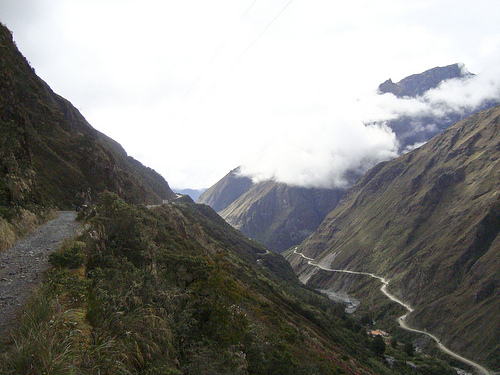 Road of Death for Thrill-Seekers
Being as dangerous and notorious for countless deaths as El Camino de la Muerte, the Road of Death in Bolivia attracts thrill seekers from all across the globe who would risk their lives for the thrill of plowing it down the most dangerous road in the world on a mountain bike. The demand for this type of adrenaline adventure was so high, local businesses started to pop up offering equipment rentals and information/guide services for crazies with oversized balls.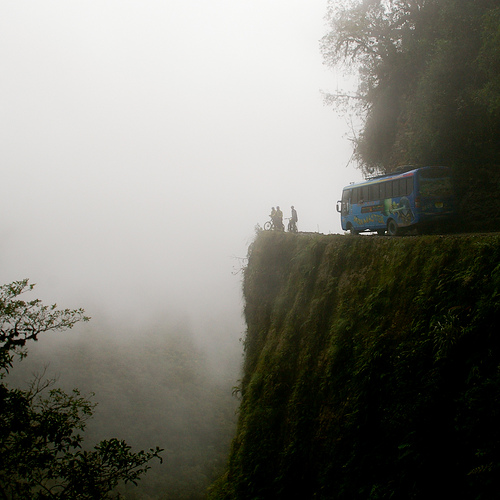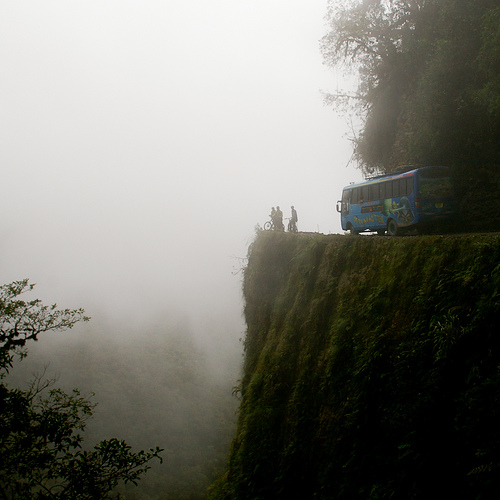 The thrill of mountain biking down Road of Death is simple – you are going down the road in poor condition with deadly slopes that claimed many lives along its side and you're getting 64 kilometers (40 miles) of almost nonstop downhill slope. That's one hell of a long ride downhill at high speed while the abyss of death is constantly on your side.
Road of Death Video
Bolivian capital city Lapaz is the highest capital city in the world. El Camino de la Muerte is one of the main roads out of La Paz and as if cities altitude was not enough, when leaving the city by El Camino de la Muerte, you will be going higher and higher. Once you get to the altitude of almost 5 km above sea level, that's when El Camino de la Muerte begins to descend in a series of narrow curves and half mile long drop-off near-misses until you are 3,600 meters lower than you were when you reached the top of the road of death. While Yungas Road is an exciting and adventurous destination for avid travellers, the reputation of the world's most dangerous road needs to be taken well in the account. Many a life have been lost and remain lost inside wrecked piles of smashed-up cars, trucks and buses laying unreachable at the bottom of the ravine. Make wise traveling decisions so there is no need for one more cross to be erect alongside the road of death.