Salar de Uyuni in South American Bolivia is referred to by many as the World's Largest Mirror. Given that it spreads over an area of 4,085 square miles (10,582 square kilometres), it truly is a vast reflective surface but the most amazing part is that this large mirror is all natural. This is no man made glass… Salar de Uyuni is a salt flat. It is the largest salt flat in the world. The above mentioned two are not the only primes of Salar de Uyuni, though. This salt flat is also the richest reservoir of lithium in the world and contains up to an estimated 70% of all of world's lithium. Impressed yet? Well guess what? There's much more to Salar de Uyuni so let's take a look at some of the facts and relish the pictures of one of the world's finest natural marvels that's also one of the world's best kept secrets (which makes it an unprecedented vacation idea as none of your peers have been there, but they will all fume with envy when they see the pictures).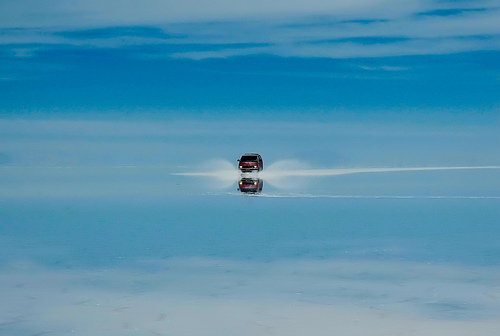 Salar de Uyuni on a Map
Salt Flats of Salar de Uyuni (sometimes also called Salar de Tunupa) are located in south-west Bolivia, in the Oruro and Potosí districts, right near the highest peaks of The Andes – South American mountain range. This places Salar de Uyuni at exceptionally high elevation of 3,656 meters. You can navigate through the location of Salar de Uyuni on an interactive map below:
Salar de Uyuni Lithium
Salar de Uyuni was once a salt lake similar to the Dead Sea. There still is a salt lake at Salar de Uyuni, however it's at the bottom, underneath the tens of meters of salt flats. It's that brine which is covered by salt flats that's an exceptionally rich source of lithium, however at present time there is no lithium mined out of Salar de Uyuni.
Salar de Uyuni As Calibration Mirror for Earth Orbiting Satellites
Salar de Uyuni is exceptionally flat (hence the World's Largest Mirror reference). Even though it spreads for miles upon miles, the altitude difference between the highest and the lowest point is less than one meter. During wet season, the salt flats get covered with a layer of water which turns Salar de Uyuni into a highly reflective surface. Given these reflective properties as well as the exceptional flatness, Salar de Uyuni is frequently used as calibration mirror by the satellites orbiting the Earth. From a perspective of a person who stands on the sand flats, the view is nothing short of extraordinary. From as far as you can see to as far as you can see it's all this blue flatness which blends in the distance with the sky. Distant hills sometimes blend with the view, making it look as though they were floating atop the blue haze.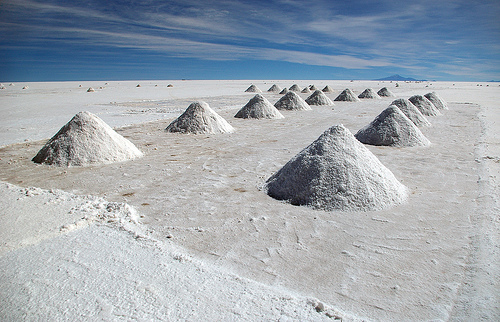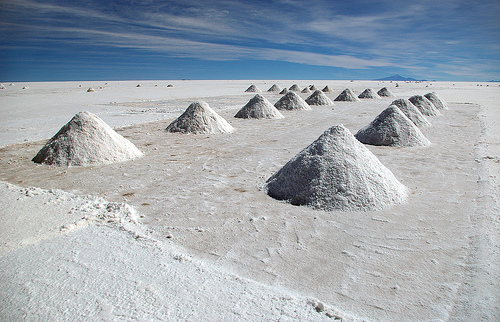 Salar de Uyuni Photos
Reading about Salar de Uyuni and seeing the photos is already enough to leave one at awe, but being there and seeing the spectacle with your own eyes is breathtaking. Abundance of pleasing blue and white colors will make for spectacular pictures whether you are an experienced photographer or not.
Salar de Uyuni Tours
Most tourists who don't pass out on the opportunity to witness the salt flats of Salar de Uyuni take one of the organized tours that start from nearby town of Uyuni. Most tours to Salar de Uyuni last for 3 to four days, but custom tours can be arranged. They are considerably more expensive, but they are… well, custom so they meet your demands and expectation as to the camping, tour guides, translations, length of stay, etc.
Standard tours will take you and a few other tourists for a 4×4 SUV ride from Uyuni south-west along several lakes until you reach the salt flats. Driver will be your tour guide and a cook. Accommodation is an experience on its own. You will sleep in small sheds and depending on which time of your you go, it could be pretty cold (keep in mind that you're on top of The Andes – very high elevation), so make sure you have warm clothes. Salar de Uyuni is a vast place with many amazing spots to explore. It will be up to the vote of the group to decide which spots the tours visits and how much time is spent at which spot.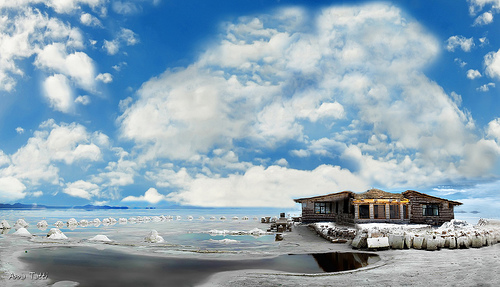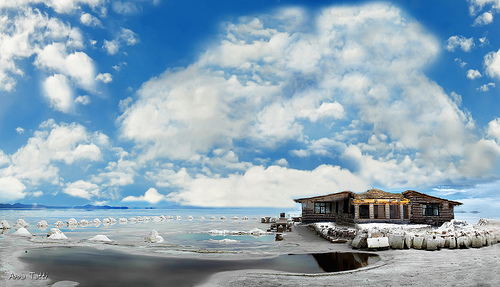 It is advisable to enquire with travellers who have returned from the tour to find out how it was. Not all tours are equal and you have no means to know who you're going with, so make sure you ask around before you pick. A lot will depend on the tour driver, so ask what the driver was like. Don't go with anyone who you were told drives recklessly or drinks while driving. Ask what kind of food this tour comes with as some tours don't leave equipped with enough food or water making it difficult during a four day trip. Ask about the condition of a car. Sitting in a noisy car in desperate need of repair will make for a lot of headache or worse – could get you stranded in the middle of nowhere. And also it is important to make sure the car is equipped with emergency supplies should things go wrong during the tour.
Once again, there is no means to recommend the tour you should go with. Discuss the options with travellers who have just returned from the tour and ask about the relevant matters before you pay for one. It is also important to consider the altitude sickness. Unless you have been in high altitudes for a while, give yourself a few days to acclimatize. That especially applies if you have come from coastal areas.
Normal cost for a tour is $80 and includes food and lodging. You will have to pay for the entrance to the Salar de Uyuni park area and may want to give a tip to the driver. Make sure you have clean and untorn bills as anything less than perfect could be rejected. Do not forget good sun screen and sun glasses. You will be at high elevation, close to the sun, surrounded by highly reflective surfaces. You'll be glad if you don't forget to take extra bottles of water with you.
You can also take a Salar de Uyuni tour from La Paz or Tupiza. Same rules apply to these tours as above. Make sure you ask around and pay extra attention to items mentioned above for a safe tour. Some tours are arranged to go one way and take you all the way to Chile.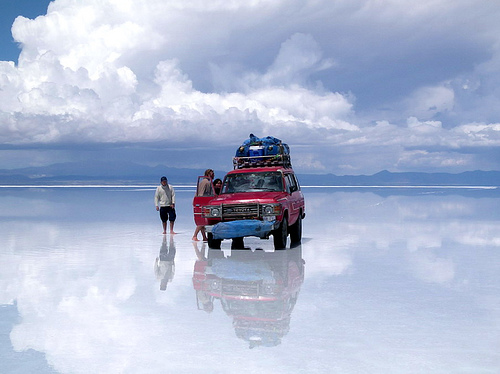 Salar de Uyuni – Best Time to Go
Salar de Uyuni is breath taking during any time of year, but looks way different in dry season than in wet season. If you want to see it with the reflective surface, then the best time to go is between December and March. However that's also when salt flats are difficult on the eyes and footwear. Surface of Salar de Uyuni is dry between July and November making the visit significantly easier (hence potentially more enjoyable) on most travellers. If you opt for going in November, you may be able to see pink flamingos that use Salar de Uyuni as their feeding ground.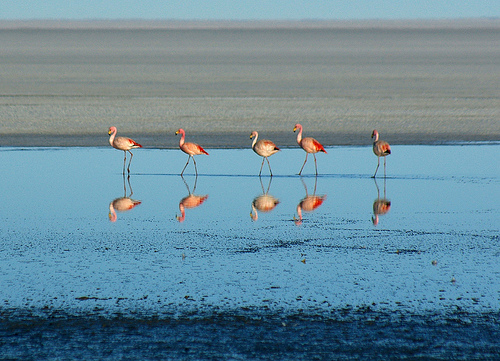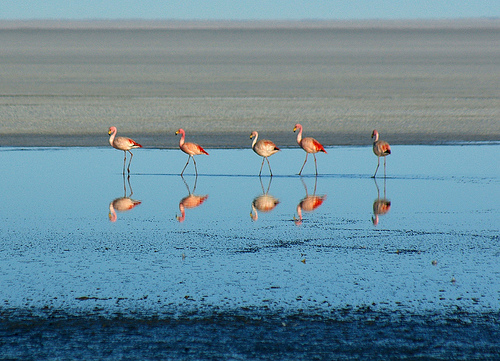 Salar de Uyuni Video
Visiting El Salar de Uyuni would be the highlight of any avid traveller. Due to its large, perfectly flat surface, Salar de Uyuni offers spectacular photo opportunities. Compared to Bonneville Salt flats in Utah, USA, Salar de Uyuni has 25 time as much salt – about 10 billion tonnes. Less than 25,000 tonnes of salt are extracted from the salt flats annually. Salar de Uyuni is also used as a road by cars (Bolivian Altiplano) offering perfectly flat surface across rugged mountainous terrain of the Andes. Whether it's for breathtaking scenery, unrivalled photo opportunities, unique ecosystem or just out of inimitable adventure, Salar de Uyuni offers an experience that's so unique and exhilarating you will never get tired of sharing the stories and pictures from salt flats. Get there before your friends find out and piss you off by going there before you.