Mount Roraima is a tepui tabletop mountain that stands right on the junction of three South American countries: Guyana, Venezuela and Brazil. The borders of all these countries meet right on top of Mount Roraima. Flat, tabletop like summit of Mount Roraima is 31 kilometres square in size (huge). The vertical sides of Mount Roraima are 400 meters tall. Thanks to its super old age and prehistoric feel, Mount Roraima served as an inspiration for "The Lost World" – the 1912 novel by Sherlock Holmes author Sir Arthur Conan Doyle about interactions between dinosaurs and people. Jurassic Park movie which was based on The Lost World novel is not the only Hollywood production inspired by Mount Roraima. The 2009 Pixar animated feature titled "Up" also took ideas from this prehistoric formation. Mount Roraima is also known by its Portuguese name Monte Roraima (used in Brazil), or Spanish mane Cerro Roraima (used in Venezuela). English is the official language of Guyana so they call it Mount Roraima there. Because Mount Roraima is a tabletop mountain natively known as tepui, there is yet another name used for this formation – Roraima Tepui.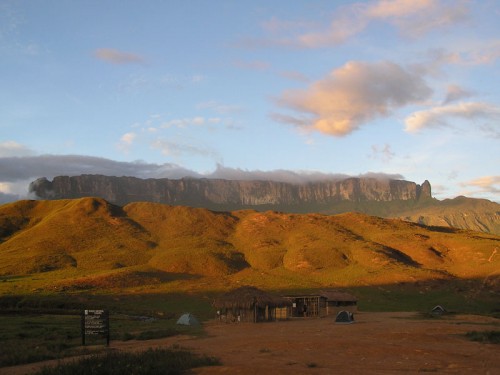 Mount Roraima Location on a Map
As it was mentioned above, Mount Roraima is located right on the junction of three borders – Guyana, Venezuela and Brazil. That means that once you have climbed on top of Mount Roraima, you will be able to stand in three countries at the same time. The exact coordinates of the triple border are: 5°12'08N, 60°44'07W.
Mount Roraima is part of The Guiana Shield the highlands of which are known for being the home to some of world's most spectacular waterfalls, including Kaieteur Falls in Guyana and Angel Falls in Venezuela which both have been previously described on Vacation Ideas website, because I believe they are some of world's finest spots that should be on everyone's "must visit before I die list".
You can see the location of Mount Roraima on an interactive, navigable map below:
Mount Roraima Weather
As you can see from the map above, when satellite pictures of Mount Roraima were taken, it was engulfed in clouds. This is not unusual by any means as the weather patterns follow the same trends on almost daily basis. Mount Roraima is surrounded by thick rainforest. Tropical heat of this part of the world causes the moisture from the rainforest to raise and condense over the mountain as heavy clouds. As a result, Mount Roraima is almost always in clouds and it rains there pretty much every day. This creates some visual spectacles as water from the flat top of Mount Roraima makes its way down in spectacular, single drop waterfalls that count as some of the tallest in the world.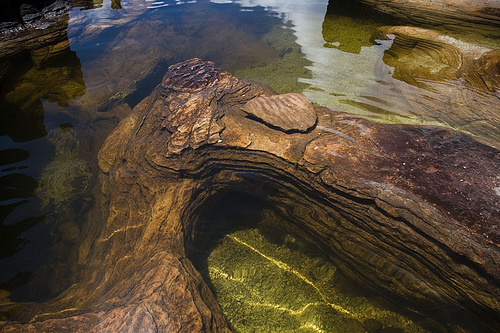 How to Get to Mount Roraima
The best starting point for tours to Mount Roraima is Venezuelan town of Santa Elena de Uairén. The town is right by the border with Brazil and several tour companies organize tours to Mount Roraima from there. You can get to Santa Elena de Uairén by plane from Caracas. Helicopter tours for those who are not fit enough to climb the natural staircase for a day are also available from Santa Elena de Uairén.
Another option is to get to Paraitepui village where Pemon Indians can be hired as guides.
Tepui Tabletop Mountains
Tepui are fascinating formations that are more than just mountains. Tepuis are the king of the plateau. Geologists have been maintaining that Tepui Tabletop Mountains such as Mount Roraima are the oldest geological formations on Earth, dating back to Precambrian era, more than 2 billion years ago.
In the language of the Pemon, people native to La Gran Sabana, Tepui means "house of the gods". While there are several Tepui Tabletop Mountains individually scattered across Pakaraima – tepui plateau in South America, Mount Roraima is the highest, the most famous and the most notable one. Venezuela can boast with the largest number of Tepui Tabletop Mountains, but since Mount Roraima reaches into Guyana, Venezuela and Brazil, each of these three countries can brag about being a home to world's most famous tepui.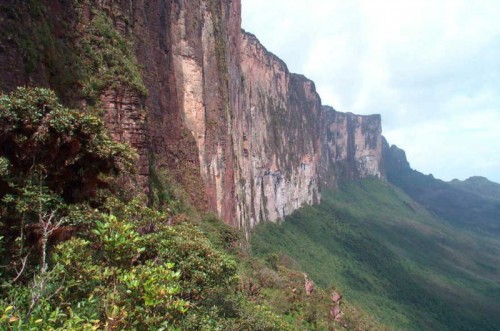 Mount Roraima Myths and Legends
First written mention about Mount Roraima was made in 1596 by English explorer Sir Walter Raleigh, but native Pemon Indians knew about the mountain for centuries prior. According to their myths and legends, what we now know as Mount Roraima was once a giant tree that once held all the fruits and vegetables in the world. At some point, one of Pemon ancestors knocked the tree down the crashing of which caused immense flood. Mount Roraima as we know it today is the stump of that gianormous tree.
Mount Roraima Height
To talk about Mount Roraima height, we have to consider two factors. One is the height of the mountain above sea level. In this case, the Mount Roraima height is 2810 meters or 9219 feet. The height range fluctuate from one point to another between 2810 to 2851 meters above sea level. This is quite high altitude so no matter what time of year, when you are on top of the mountain, it is going to be fairly cold up there. The highest peak of Mount Roraima which reaches the height of 2810m is on Venezuelan part of the tabletop and is called Maverick Rock. When it comes to height of Mount Roraima from the bottom of the plateau, it averages to about 400 meters.
Mount Roraima is the highest point in Guyana. Brazil and Venezuela both have peaks that are higher than that elsewhere in the country.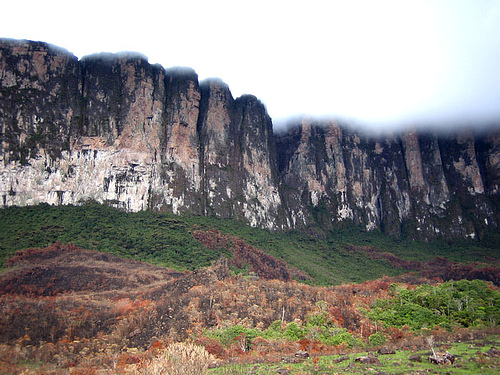 Mount Roraima Treks
The first person to take a trek up on top of Mount Roraima was Sir Everard im Thurn in December of 1884. To climb up on top of Mount Roraima is near impossible because of its endless and steep sides, but Sir Everard im Thurn found slightly sloped area covered with trees which allowed him to trek the mountain all the way to its massive top. Trekkers taking tours to Mount Roraima use the same route Sir Everard im Thurn took more than a hundred years ago. This hike is on Gran Sabana side of the mountain in Venezuela.
Once you make it on top, you should try to get to the junction of all three borders. This point is marked by a concrete cairn, but keep in mind that the top of Mount Roraima is 31 square kilometres in size (5 miles across). Depending on where you are, you could be several kilometres away from it, which means it could take you hours to get to the point.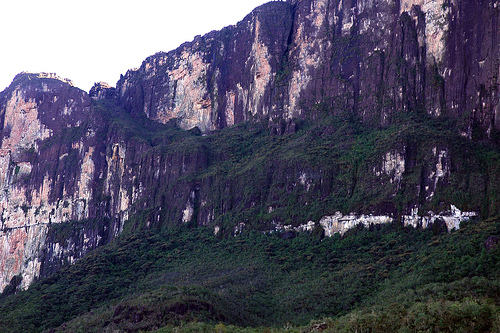 Mount Roraima Tours
There are several companies offering tours to Mount Roraima, mostly in Brazil and Venezuela as impenetrable jungle on Guyana's side makes for challenging access from this country. As it goes with any tour company, enquire with other tourists before you make a booking and try to agree on written contract before you pay the money. Mount Roraima is a large mountain. It's massive. It takes 2.5 days to get on top.
Most companies organize 6 day tours. After 2.5 day ascend, you would spend 1.5 days camping on top of the mountain and then take 2 days to descend the mountain. Because it's quite an adventure, it is essential to make sure you are going to good tour company. Tents must be of decent quality and reasonably reliable. all other equipment, such as stoves should also be operational and clean. It's also essential to enquire about food supplies so you don't spend your 6 day tour hungry. At the time of this post, Backpackers Tours was a recommended company, but things change quickly. Try to track down backpackers who took tours and ask them about their experience. This is the best way to avoid shady tour companies and pick a good in at this given time.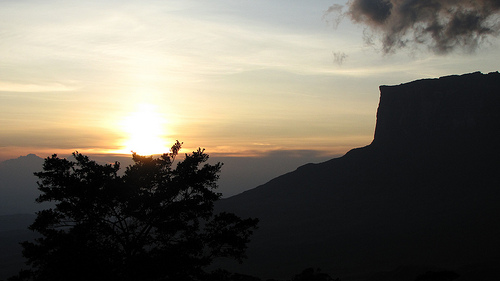 Mount Roraima Video
The video below is form the BBC series about plants surviving in extreme conditions. It features nice aerial photography of Mount Roraima, even though it mostly focuses on incredible flora found on the hostile mountain. In order for the plants to adapt to the life on the mountain that is continuously being washed off by flowing water which takes away all nutrients, the plants turned carnivorous and feel themselves by eating insects. This video us a nice documentary of all this.
The intriguing nature of the world's oldest geological formation which is Mount Roraima makes all visitors feel as if they'd stepped back in time a few million years. 2 billion year old caves have been recently discovered on the Roraima formation. All of this truly make for an unforgettable adventure that would be savoured by any tourist. There are some of world's most spectacular spots on the Guiana Shield that every avid explorer should look deeply into. I have yet to meet one person who would not have been completely blown away after visiting this area. Yet it is often missed by many. It's truly ironic how biggest gems are left for few to discover.