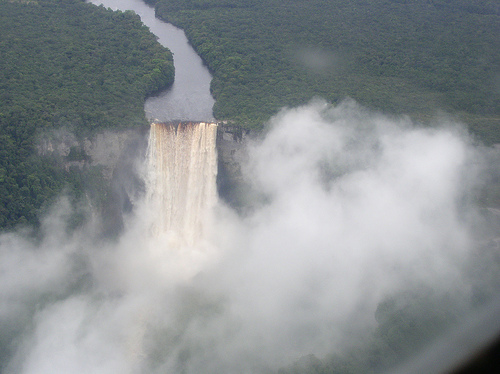 Kaieteur Falls in Guyana is the place to go if you love unspoiled tropical rainforest wilderness in a totally un-touristy natural setting. Guyana is a small country in South America and is an amazing trip for those looking for adventure at one of the most majestic spots on Earth. Not many people have heard of Kaieteur Falls which adds to the joy of the place. The area offers beautiful scenery, amazing waterfalls and very few people to get in the way. Puerto Vallarta, Mexico, is nice but everyone, even you, has already been there.
The Legend of Kaieteur Falls
Kaieteur Falls is named after Chief Kai of the Patamona tribe, who sacrificed himself by canoeing over the falls to please the great spirit Makonaima so he could save his tribe from the savage Caribs who were raiding the area. In tribe's native tongue, "Teur" means "Falls".
Direct descendants of Chief Kai and members of Patamona tribe still live in the villages of Chepanau, located on the border of Kaieteur National Park. The village is on the Potaro River and can be reached by speed boat. It's a 3 hour ride upriver from Kaieteur Falls.
Kaieteur Falls Fact Sheet
Kaieteur Falls is located on the Potaro River in the very heart of Guyana. As one of world's greatest natural wonders, Kaieteur Falls flows over a flat sandstone cliff and then plunges down in a single drop of 226 meters (741 feet). This makes Kaieteur the largest single drop waterfall in the entire world. Once the falls reach its first break, it continues cascading down over a set of steep rocks for another 25 meters (101 feet) so the total distance from top to bottom is actually 251 meters (822 feet).
Kaieteur Falls vs. Niagara Falls vs. Victoria Falls
Let's compare Kaieteur Falls with better promoted (hence more famous) Niagara Falls: Kaieteur Falls has five times the drop of Niagara Falls. Kaieteur Falls is also twice as high as famous Victoria Falls in Africa (located on Zambezi River, on the border between Zimbabwe and Zambia. Victoria Falls is home of the Devil's Swimming Pool).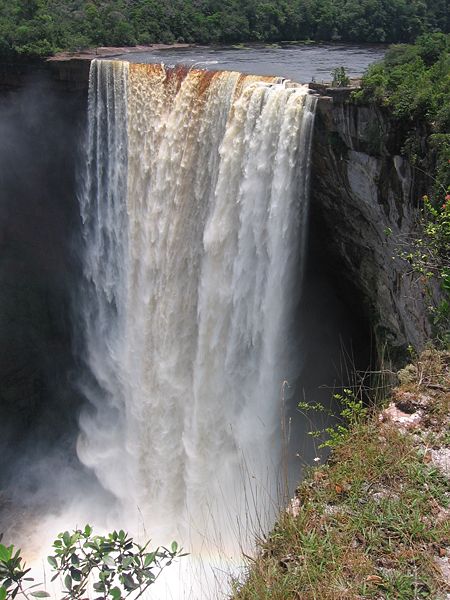 Kaieteur Falls Flora and Fauna
The unique environmental conditions created by massive waterfalls support a variety of fauna and flora that can only be found in the area of Kaieteur Falls. Kaieteur Swifts (a type of bird) are known for being the most rapid living creatures capable of capturing flying insects. Kaieteur Swifts build their nests in the rocks hiding behind the impenetrable curtain of falling water.
Many endangered species feel at home within the area of Kaieteur National Park so bird and critter watching is varied and interesting. Kaieteur National Park has areas that are especially designed to offer these face-to-face encounters with both animal species and various exotic plants.
Kaieteur National Park
Beautiful Kaieteur Falls is found in raw, natural surroundings of the Kaieteur National Park. Located on the Guiana Shield in the Pakaraima Mountain region Kaieteur National Park is one of the world's oldest and most remote geological formations. The rainforest located within Kaieteur National Park is considered to be one of the largest and most bio-diverse in the world.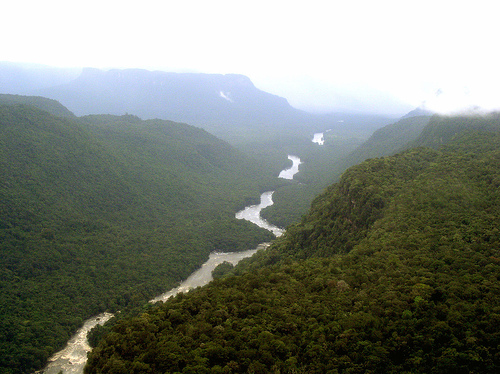 Guiana Shield
Guiana Shield in Guyana is known for being the planet's oldest surface. It's considered to be about 2 billion years old and you can feel "the spirit of old". If you thought Machu Picchu in Peru made you feel "the spirit of old", just wait until you step foot within the rainforest of Guiana Shield. This is not to ditch Machu Picchu as it is without doubt one of the most magnificent places on Earth, but if there is one place that can make you feel "the spirit of old" more than Machu Picchu, it's Guiana Shield.
Located between the Orinoco and the Amazon rivers, Guiana Shield covers an area of 75,000 square kilometers (30, 000 square miles). The Amazon River borders Guiana Shield in the south, Japur-Caqueta River borders Guiana Shield in the southwest, Sierra de Chiribiquete Mountains border it in the west and Guaviare and Orinoco Rivers in the northwest. Guiana Shield reaches all the way to the shores of the Atlantic Ocean.
Getting to Kaieteur Falls
Kaieteur Falls are literally in the middle of nowhere, giving you the true feeling of unspoiled nature and remoteness from any signs of civilization. You get to Kaieteur Falls by either of two means:
Kaieteur Falls by Plane:
Small air craft can be boarded in Georgetown, the capital of Guyana. The flight takes about an hour and aside from getting you to the Kaieteur Falls area quickly and conveniently, it also offers you the bird's eye view of the falls which is beyond spectacular.
Kaieteur Falls on Foot:
If you're more adventurous and physically fit for long hiking, you can reach Kaieteur Falls on foot. Depending on your fitness level, it can take you 3 to 5 days to reach Kaieteur Falls. The advantage is that you will see lots of virgin rain forest with many great sights within Kaieteur National Park before you reach the cherry on top – Kaieteur Falls.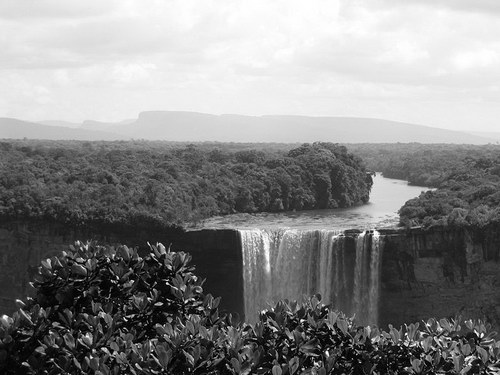 Remember, Kaieteur area is wilderness in its purest form. You won't find any roads in the rainforest of the Kaieteur National Park, no luxury hotel chains, no protecting guard rails. Kaieteur Falls is the most popular vacation spot in Guyana, but you're still likely to be the only person around if you go there during the week. On weekends during busier seasons you might see other tourists who dared the wild hike or took a plane to see the marvel of Kaieteur Falls. Guyana rainforest offers you the ability to experience authentic wilderness that has not been altered by humans.
If you decide to hike to the Kaieteur Falls from Georgetown (capital of Guyana) it will likely take you five days before you get to the falls. You'll leave Georgetown by car, then you will board a small boat and will sail the river for two days. The rest of the trip will be on foot and will last 3 days. It's rather demanding and may not be suitable if your fitness level is not up to par. It may also not be for you if you're looking for a lazy, scenic vacation. During your three day hike, you will sleep in hammocks attached between two trees. You will also cross the river with no bridges. You'll throw yourself in waist deep to get on the other side. When I said it was pure wilderness with no human made accessories to make the trip easier – I was not kidding. Even at the Kaieteur Falls – there are no railings, no safety warnings, no nothing. You are on your devices. You can get as close to the edge as you dare. It's not the easiest adventure to take, but it's highly rewarding, uplifting and scenery is beyond beautiful.