If you are on the hunt for a balance of fun city life and beautiful natural surroundings, search no more! Surfers Paradise on the Gold Coast in Queensland, Australia truly is paradise – whether you plan on staying for a day or a couple of weeks, you are certainly in for a treat. Warm Pacific beaches filled with fine sand and smooth waves, throw in a bunch of friendly locals and you've got yourself the atmosphere of a great time. The city Gold Coast holds a mere population of about 19,000, and you will find that the best place for shopping and nightlife is Cavill Mall, which is also the center business district.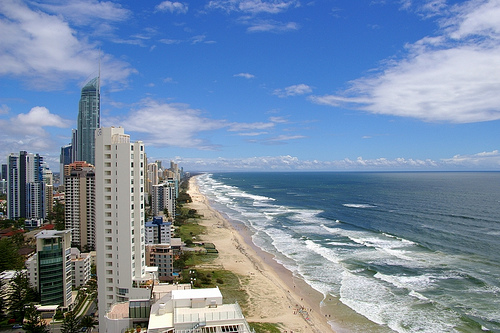 Things to Do on The Gold Coast of Australia
Surf of course! But other water sports such as boating, fishing and swimming in designated areas are an option too. The Gold Coast city is full of resorts, spa's and other local attractions, such as the Bungee Rocket and indoor ice skating. Since 1991 the Champ Car World Series has run an annual race on the streets of Surfers Paradise, an event known as the Nikon Indy 300. Gold Coast is also home to the tallest residential building in the world as well as the tallest building in the southern hemisphere standing at 323 meters. There are also theme parks, water parks and wildlife parks on the Gold Coast of Australia. The city is filled with restaurants, night clubs, a market place for local arts and crafts and even a championship golf course. And if the hustle and bustle of the city gets to be too overwhelming, you can hike over to the McPherson Mountain Range or visit surrounding smaller towns. Needless to say, you will not get bored on the Gold Coast of Australia no matter what kind of entertainment you are looking for.
Best Time to Visit The Gold Coast of Australia
To really get the best of what Surfers Paradise has to offer you should go between the months of October and March. However, unless you want to be swamped by a crowd of tens of thousands of slightly intoxicated, and loudly obnoxious recent high school graduates ("Schoolies" lasts from the last week of October and the first two weeks of November), avoid taking your Gold Coast vacation during that time.
Weather wise you will not have to worry about being rained out of your vacation. With 330 days of sunshine a year, you can be sure that there will be bright blue skies and that warm tropical weather no matter when you visit the Gold Coast, so don't forget your sunscreen and a hat and enjoy nice weather! Being on the coast, however, there are still the occasional thunderstorms that occur. They are usually quite pleasant and refreshing, but to be safe, a raincoat or umbrella is a good idea to have in your inventory.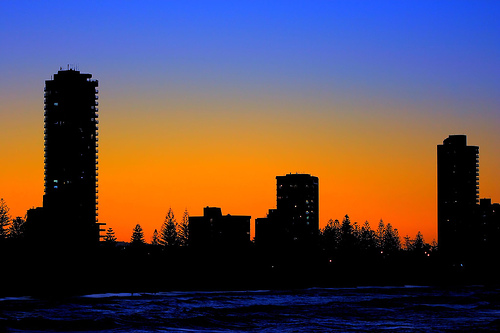 One of the best things about Surfers Paradise is that it caters to all kinds of tourists and their desires. From budget to luxury resorts, hotels, restaurants and attractions, you will always be filled with fun times and great memories. Though there is so much to do within Surfers Paradise, don't forget about the rest of the Golden Coast – it is a really beautiful site to see. And at the end of a fun-filled eventful day, take a moment to watch the sunset as the high tides come in. It's stunning.