Monteverde which means "Green Mountain" in Spanish is a small town in the Puntarenas province of Costa Rica. The population of Monteverde is not high – currently at about 6,500 residents many of which speak good English so even if your Spanish is a bit rusty or non existent, you won't have much trouble getting by. What makes Monteverde an attractive vacation destination is nature. With its unique cloud canopy, Monteverde Cloud Forest Reserve (Reserva Biológica Bosque Nuboso Monteverde in Spanish) is a paradise for nature lovers and avid photographers. It comes as no surprise that people who visited Monteverde Cloud Forest Reserve rank it as one of the most beautifully stunning and breath taking nature reserves in the world.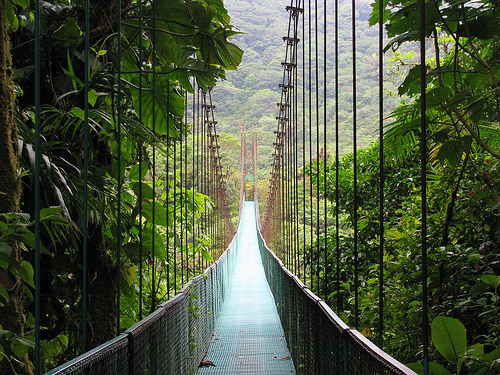 Monteverde Cloud Forest Reserve Location
Majority of the Monteverde Cloud Forest Reserve is located in the Puntarenas province in Costa Rica, however parts stretch to the Alajuela province, along the Cordillera de Tilarán mountain range. Monteverde Cloud Forest Reserve consists of 10,500 hectares of tropical rainforest, 90% of which are virgin forest. Pristine nature makes it an amazing ecotourism destination. You can see the location of the Monteverde Cloud Forest Reserve on the interactive, navigable map below (provided by Bing Maps).
Monteverde Cloud Forest Reserve History
Artifacts such as pots, containers, ceramics and grinders have been found in various areas of Monteverde, dating as far back as 3000 BC suggesting the village tribes of Clovis Native Americans had inhabited the Monteverde Cloud Forest Reserve area long before the Spanish invasion of 1502.
In the early 20th century, Creole populations arrived in small numbers to work in or provide services for the gold mines. Their main settlement was in the valley of San Luis which provided them with year round warm weather.
In the 1950's, members of the religious group Quakers came to Costa Rica from the United States of America to avoid the draft during the Korean War. Costa Rica had a non-violent, army-free constitution at the time which bounded well with Quakers' pacifistic values. Quakers settled in the Monteverde Cloud Forest Reserve area because it facilitated dairy farming and offered a little cooler climate.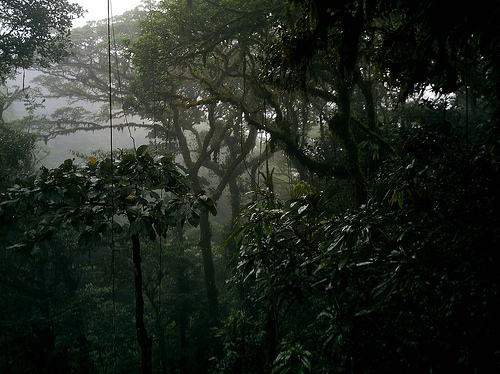 When scientist George Powell and his wife visited Monteverde in 1972, they were astounded by its natural beauty and decided to take step towards preservation of the area and protection of the rain forest from a threat of homesteading. They were joined by Monteverde resident Wilford Guindon and through their combined efforts, 320 hectares of land were purchased by the Tropical Science Center which initiated the establishment of Monteverde Cloud Forest Preserve. The Tropical Science Center currently owns 10,500 hectares of land and is continuously securing the financial and human resources to protect and maintain the Monteverde Cloud Forest Reserve.
Today, Monteverde Cloud Forest Reserve is visited by approximately 250,000 tourists, which is quite a jump compared to a few hundred back in 1975. This size-able influx has brought great improvement in accessibility and availability of goods and services provided in the Monteverde Cloud Forest Reserve.
Monteverde Cloud Forest Reserve Fauna and Flora
The Monteverde Cloud Forest Reserve includes eight distinct ecological zones and protects more than 400 species of birds, over 100 species of mammals and roughly 1,200 species of amphibians and reptiles. Some of these include 30 different species of hummingbirds, jaguars, ocelots, baird's tapirs, three-wattled bellbirds, bare necked umbrella birds, guans, toucanets, pumas, monkeys and even the very rare resplendent quetza. It is filled with extravagantly tall trees that range from 30 to 40 meters in height and pathways that are embellished in orchids, bromeliads, ferns, vines, and mosses. The unique landscape is home to more than 300 species of orchids and 200 species of fern and 800 species of epiphytes (plants that grow on other plants).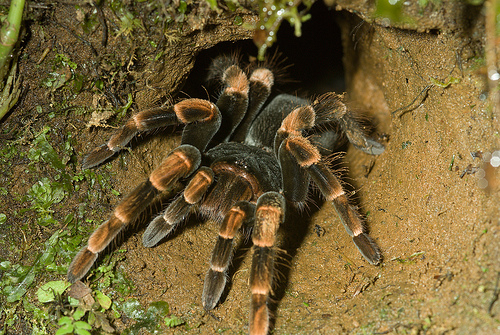 Monteverde Cloud Forest Reserve Weather
The reserve is incomparable to others for many reasons, but geographically it is situated on both the Pacific and Atlantic slopes of the continental divide. The cloud forest ranges in elevations of 1,200 m to 1,600 m, which keeps the humidity of the area extremely high, making cloud cover a constant – hence the name Monteverde Cloud Forest Reserve. There are three seasons that occur in the Monteverde Cloud Forest Reserve – dry, wet and misty. Daytime temperatures vary with cloud cover and wind conditions, but are generally in the range of 15 to 22 Degrees Celsius. Monteverde experiences an average of 3000 millimeters (118 inches) of rain a year.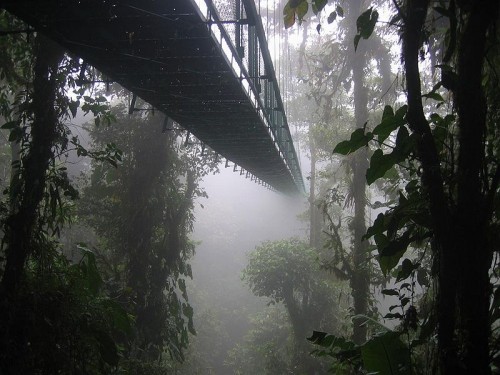 Monteverde Lodge
Monteverde Lodge and Gardens is a great choice of accommodation for travelers wishing to soak in the Monteverde Cloud Forest Reserve. Its location on the edge of the reserve, right in the Tilarn Mountain delivers the feeling of being hand in hand with nature.
Trapp Family Lodge is a cozy, 20-room inn located only 15 minutes on foot from the entrance to the reserve. Warm welcomes and homey atmosphere make Trapp Family Lodge a suitable accommodation option for ecotourists.
Places of Interest and Things To Do
To really soak in what the Monteverde Cloud Forest Reserve has to offer, you will need to be strong willed. Aside from common zipline adventures, there are also rappelling and canopy tours that cross cables and a series of suspension bridges and trams that give you a bird's eye view of Monteverde. But don't worry, if heights are not you thing, there is still plenty to do! You can explore the variety of trails that are mapped out and well maintained. You can go see the hummingbird show at the Hummingbird Gallery, or visit several of the serpentariums, insect museums and butterfly gardens. There is horseback riding, mountain biking, bird watching… the activities are endless!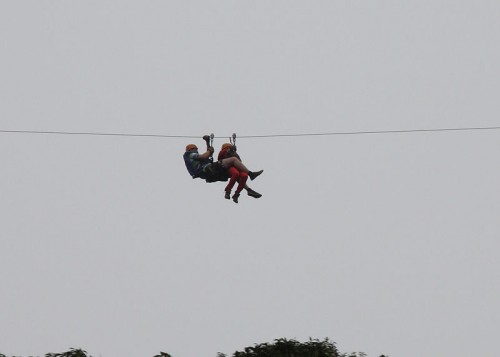 The radiance that Monteverde has to offer is immeasurable, virtually indescribable in words and you get the chance to see wildlife that can be seen no where else in the world. Every visit is a different scene, you will always see something new because where there is an abundance of nature, there is an abundance of adventure waiting to happen. You don't have to take my word for it, go experience it yourself – you will not be disappointed! Monteverde Cloud Forest Reserve delivers.