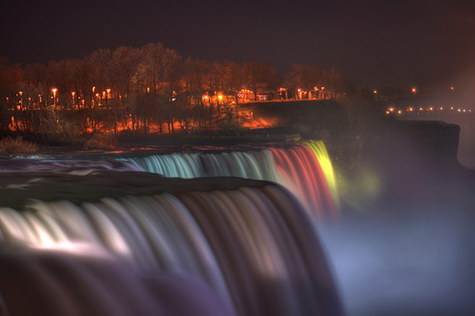 Niagara Falls counts as one of those vacation spots where you can feel the tremendous power of Mother Nature with every part of your body. Large bodies of water making their unstoppable way throughout the rocky terrain as they bolt down into the swirl get you connected and appreciative of our planet's natural beauty. The sheer visual spectacle of a Niagara Falls vacation is mesmerizing and guaranteed to leave impressions that will last a lifetime.
A Niagara Falls vacation however offers more than just a spectacle. Niagara Falls are the rush. Being so close to the unstoppable, deadly power of nature is like walking on the back of Godzilla. You know that if you crossed the line, there would be no saving you, but at the same time you know that you're safe. You're just given the opportunity to enjoy this formidable, deadly beast from up close, you can feel it's monstrous power, you can feel it's breath on your neck, but it can't get you. This is the type of rush Niagara Falls vacation offers, this is the type of rush hardly any other place on Earth can get you.

Niagara Falls Geographical Location
Niagara Falls is geographically located on Niagara River, which maps the border between Ontario, Canada and New York, USA. It consists of two massive water-falls – Horseshoe Falls is in Canadian province of Ontario and American Falls is in U.S. state of New York. The two falls are separated by Goat Island.
Most visitors to the Niagara Falls agree that Horseshoe Falls on the Canadian side are more impressive than America Falls on the U.S. side. This is also influenced by more attractions with "more to do" on Canadian side as well as better hotels and restaurants.
Reaching the U.S. side of Niagara Falls is not difficult and can be easily done on foot even by people with lower fitness level. Three bridges connect Canadian Niagara Falls with US Niagara Falls. Rainbow Bridge, which is the closest bridge to the falls offers eye-popping view of the falls and is open to pedestrians. Non commercial vehicles are also allowed to cross it, however summer traffic sometimes gets it backed up so the best choice is to stay on the Canadian side, leave the vehicle there and walk to the U.S. to enjoy American Falls as well as The Bridal Veil Falls (smaller waterfall strip on the side of American Falls located between Luna Island and Goat Island).
You can check out a navigable bird's view of the Niagara Falls by visiting Microsoft Virtual Earth HERE or see its location on the map cut out below (courtesy of Google Maps).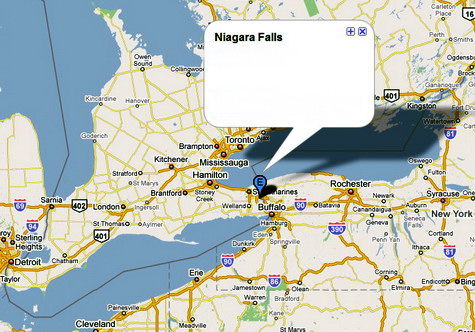 Things to Do on a Niagara Falls Vacation
Niagara Falls Vacations offer vast variety of interesting activities that are guaranteed to satisfy all age groups. Helicopter tours are available for those who would like to enjoy the ultimate view of the falls, however you'll find it breathtaking even if you're stay on the roads siding the river.
Boat tours are available for those willing to get real up close to the Niagara Falls. "Maid in the Mist" is the most popular boat that sails at the bottom of the falls and will take you so close you can literally touch the falling water. The popularity of this attraction sometimes causes long waiting times so it's best to get there early in the morning to avoid rush afternoon hours. The "Cave of the Winds" boat tour will take you to the base of the Niagara Falls and is available from Goat Island Park on the U.S. side. Parkway that runs alongside the Niagara River will take you to the town called Niagara on the Lake.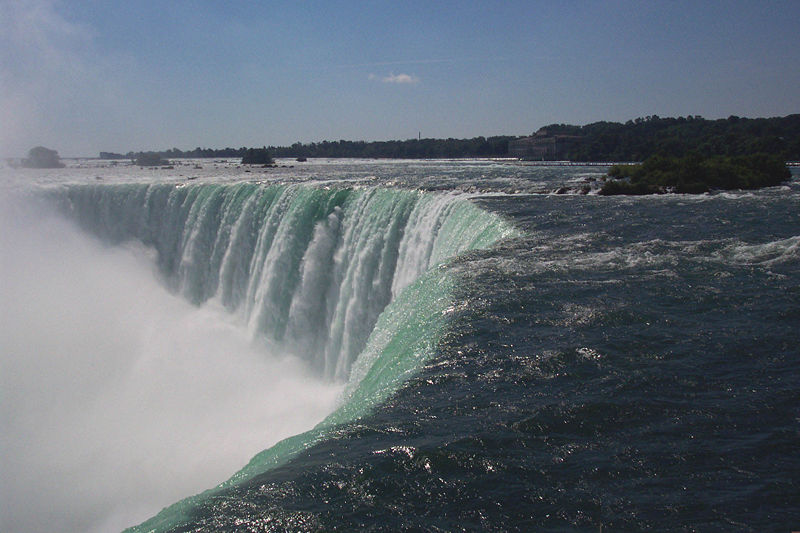 Best Time to Take Niagara Falls Vacation
Niagara Falls offers bewitching sight year round so it's all up to your personal preference to decide whether you like to travel in warm weather or in cold. Winter in the Niagara region lasts from November till March and while snowfalls are not rare, the snow typically melts quickly. Icy water creates a whole new spectacle that summer visitors don't get to see, however there is a downside to visiting Niagara Falls in winter – getting up close to falling water is hardly fun. Getting splashed on and soaked by a waterfall in -15 degree Celsius is not exactly the most pleasurable experience (unless you enjoy the extremes). Another downside of Niagara Falls vacation in winter is that many attractions remain closed.
The biggest attraction in winter is the Winter Festival of Lights. As the name suggests, the Festival of Lights is a magnificent display of animated lights, sparkling trees and fireworks. It runs from Thanksgiving to New Year and attracts over a million people every year. It is definitely a not to be missed spectacle. The Niagara Falls Winter Festival of Lights New Year's fireworks are typically the most sensational fireworks display which is why Canadian national and provincial TV stations broadcast it as part of their New Year's festivities.
Most people would enjoy a Niagara Falls vacation best in the summer though. All the attractions are open and running, so you can go for a boat tour and/or a helicopter tour and you can enjoy the marvel for longer periods of time without getting frost bitten. Picture taking in winter is also often limited as many cameras don't operate the greatest when the temperatures drop and pressing the shutter button with numb fingers gets rather challenging.
Whether you decide to take your Niagara Falls vacation in winter or in summer, you're in for a dazzling treat. Natural beauty of Niagara Falls is so empowering each member of your family will enjoy it and will never forget the magnificent display it offers. Even if you're a solo adventurer, there is so much to see and to do in the Niagara Falls area that you will never get bored. There is a reason why Niagara Falls is often referred to as one of the great wonders of the world. Put it on your must visit location list. And make sure you pack in an extra set of camera batteries and an extra memory card. You won't believe your eyes when you get there. Enjoy and let me know how you liked it.