Hunedoara Castle is one of the most spectacular castles in the world. It is located in the town of Hunedoara in Romania however up until 1918 it was under the jurisdiction of oppressive Hungary that occupied most of central and eastern Europe for thousand years. Austro-Hungarian Empire reached its end in 1918 and Hunedoara Castle became part of country it truly belongs to – Romania.
14th century gothic Hunedoara Castle is known internationally as either Hunyadi Castle or Corvin Castle, based on its former inhabitants – John Hunyadi and Matei Corvin. Even local Romanians call the castle by either Castelul Huniazilor (Hunedoara Castle) or Castelul Corvineştilor (Corvin Castle). Hungarian name of the castle is Vajdahunyad Vára, in German it is Hunniadstadt, Eisenmarkt.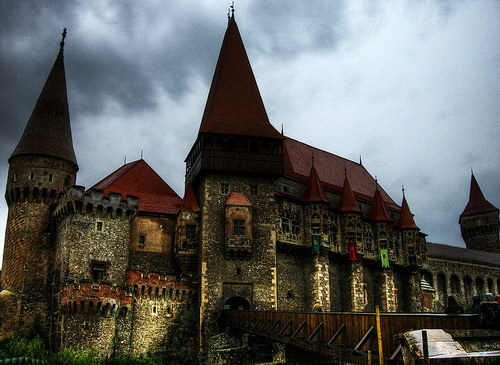 Hunedoara Castle Location
Hunedoara Castle is located by the river Zlasti in the western part of central Romania, about 300 km (185 miles) northwest of Bucharest. Enclosed within the Cerna Valley (Black Valley) on the east of Poiana Ruscă Mountains, Hunedoara Castle is part of world famous Transilvania – home of Count Dracula within the Carpathian Mountain range. Read on to learn about Hunedoara Castle's has direct connection to Vlad Tepes, the impaler whose atrocities inspired famous novel by Bram Stoker – Dracula.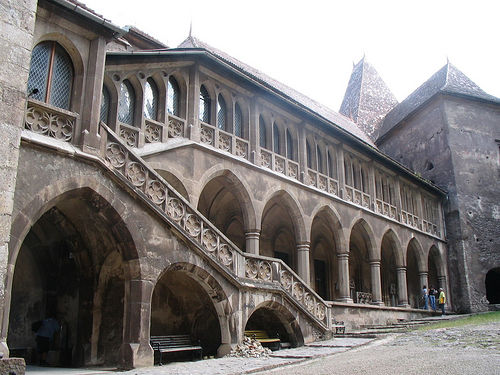 Hunedoara Castle History
The history of Hunedoara Castle begins somewhere in the 12th century. At the time the castle was just a small citadel. Sigismund, the King of Luxemburg gave it to Romanian noble man Vojk Hunyad for his service. When Vojk died, his son Ioannus Corvinus, also known as János Huniady (or John Hunyadi) inherited the citadel and expended on it, turning it into a magnificent, gothic stronghold.
John Huniady was a famous warlord, a great war strategist nick named "the white knight" for his unsurpassed victories against attacking Ottoman Turks. John Huniady became The Prince of Transylvania (Voevode Transylvanie) and the governor of Hungary. Elisabeth of Szilagy really loved the Hunedoara Castle and spent most of her life living there.
Matthias Corvinus (Matei Corvin), the son of John Huniady and the king of Hungary further expanded on the castle, adding the touch of renaissance. It was during his rule when Vlad Dracul – famous impaler later knows as count Dracula was imprisoned in Hunedoara Castle for his cruelty.
Transylvanian prince Gabriel Bethlen who owned Hunedoara Castle in the 17th century enlarged the castle even further, adding Bethlen wing – renaissance and baroque influenced part to it. Gabriel Bethlen also built the gate tower, white tower and moved the entrance to its current location.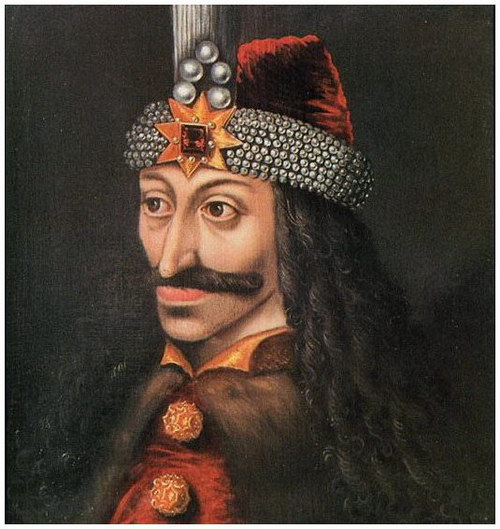 Hunedoara Castle and Count Dracula
During reign of John Huniady Vlad Tepes, aka Count Dracula was a valued friend and an ally of Hunedoara Castle. John Huniady gave Vlad Dracula the rule over Wallachia and along with his army, he fought invading Turks from the Ottoman Empire.
The matters took sudden turn for Vlad Dracula when in 1458 when Matthias Corvin became the king of Hungary, inheriting Hunedoara Castle after his father. At that time the Turks already controlled the Constantinopole, which was the Christian gate to Europe. Vlad Dracula fought Ottoman Turks off and the area along Danube river that was under his control was some of the most successful in fighting the invaders. Turks however responded with deployment of massive army to the Wallachia province and the rest of Romania, forcing Vlad Dracula to flee to the Transylvanian Alps mountains.
When Vlad Dracula recuperated, he went to Hunedoara Castle with intentions to get help from the king so he can fight Turks back. Instead offering help, King Matthias Corvin imprisoned Vlad Dracula. He was held prisoner in one of Hunedoara Castle's cells for 7 years.
After 7 years in jail, Vlad Tepes was recognized by the court as a devoted ally and released from prison. Matthias Corvin gave him the army he originally asked for and Wallachia province was once again regained and fell under Vlad's control. Vlad Tepes was again on good terms with the king and ended up marrying Matthias Corvin's cousin.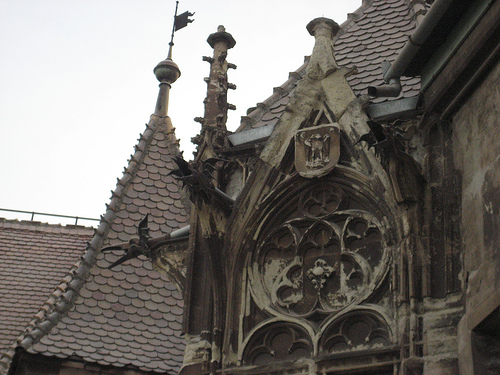 Hunedoara Castle As Vacation Idea
Tourism in Romania is on a rise. Despite weak economy, hundreds of thousands of tourists from all over the world are attracted to the Transylvanian mountains because of their connection to vampires and the most famous of them all – Dracula. Hunedoara Castle is only one of the Romanian castles with direct connection to Dracula. Bran Castle is often mistakenly refered to as the Dracula Castle, even though it isn't. However Bran Castle is where Bram Stoker based his book "Dracula" at. Actual Dracula castle – the residence of Vlad Tepes is in ruin as it was destroyed.
Hunedoara Castle has a perfect direct connection to Count Dracula as Vlad Tepes spent several years in confinement there. That's more than Bran Castle, where Vlad dined. Aside from its connection to Dracula, Hunedoara Castle is an architectonical germ. The spirit of dark ages can be felt throughout and it's guaranteed to deliver ultimate rush to all who seek more from their vacation than just a relaxing stay at the beach.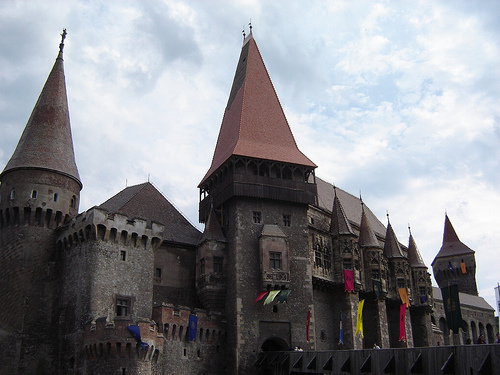 Hunedoara Castle – What to See?
Since John Huniady turned the property into a magnificent fortress, Hunedoara Castle has been recognized as the most beautiful castle in Transylvania. Today the castle houses the spectacular museum and a gallery. Maces Tower, the Council Hall, the Knights Hall, Chapel, and 100 ft courtyard are available to the visitors and they are all spectacular.