Tour Montparnasse basically means Montparnasse Tower. It is also sometimes referred to as Tour Maine-Montparnasse. Located in Capital of France – Paris, 59 floor high Tour Montparnasse is Europe's 9th tallest building and THE tallest in France. The skyscraper also boast another Europe's prime – it is the home of Europe's fastest elevator. It only takes 38 seconds to get you from ground floor up to the restaurant on the 56th floor, from where a beautiful, 360° view of Paris and areas beyond will take your breath away.
Tour Montparnasse Height
Tour Montparnasse is 210 meters (689 ft) high.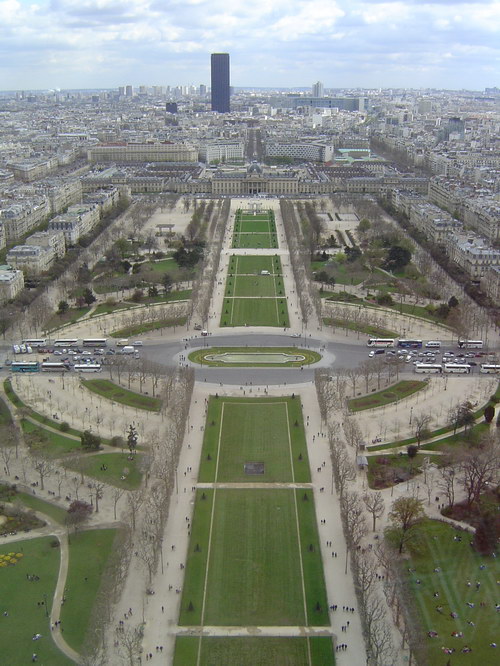 Tour Montparnasse Location
The address of Tour Montparnasse is: 33 Avenue du Maine, Montparnasse, Paris, France. It is right above the above Montparnasse-Bienvenüe underground train (metro) station in Paris.
While the building itself is easy to get to and find, finding visitor entrance is more challenging as main building entrance is used by people who work in one of the offices. You need to get to a side of the building facing Rue de L'Arrivee. Public entrance is there, it has a sign which reads: "Paris en 360 degrees" (360 degrees view of Paris).
Although Paris natives are proud of Tour Montparnasse, it really doesn't fit the architecture of the city at all.
How to Get to Tour Montparnasse
By metro: Montparnasse-Bienvenüe (served by several lines, for example Green #6)
By bus: #28, 58, 82, 91, 92, 95, 96
Tour Montparnasse Restaurant
Tour Montparnasse Restaurant is 56th floor and aside from the terrace on the roof, it is the only publically accessible area of the tower which is otherwise used as office builduing only. The 56th floor also houses an exhibition area where various stages of building process that Tour Montparnasse went through are shown.
Tour Montparnasse Roof Top
From Tour Montparnasse Restaurant it's only a few floors up to reach the roof top of the skyscraper. You have to walk it up there from the restaurant but the rush and the views are well worth it. Secure railing keeps you safe from falling over and contains information panels about the area you're viewing.
Tour Montparnasse vs. The Eiffel Tower
Both landmark of France's capital offer breath taking view of the city, even though nothing beats the view from Eiffel Tower. If you're visiting Paris, a trip to the top of Eiffel Tower is a must, however Tour Montparnasse has certain advantages too.
First of all – there are always huge line-ups for the Eiffel Tower. Tour Montparnasse elevator will take you up with only little or no waiting involved. Tour Montparnasse is also cheaper.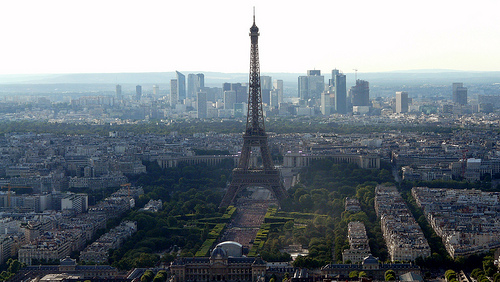 Tour Montparnasse Elevator Fees
It costs 9 EURO to be taken up on 56th floor. It's not too bad, considering the elevator fees for the Empire State Building in New York are $20. Students and children pay less and you can get an additional 3 EURO discount if you show a "Paris Visite" transport pass.